How to Celebrate Valentine's Day with Kids Learning Chinese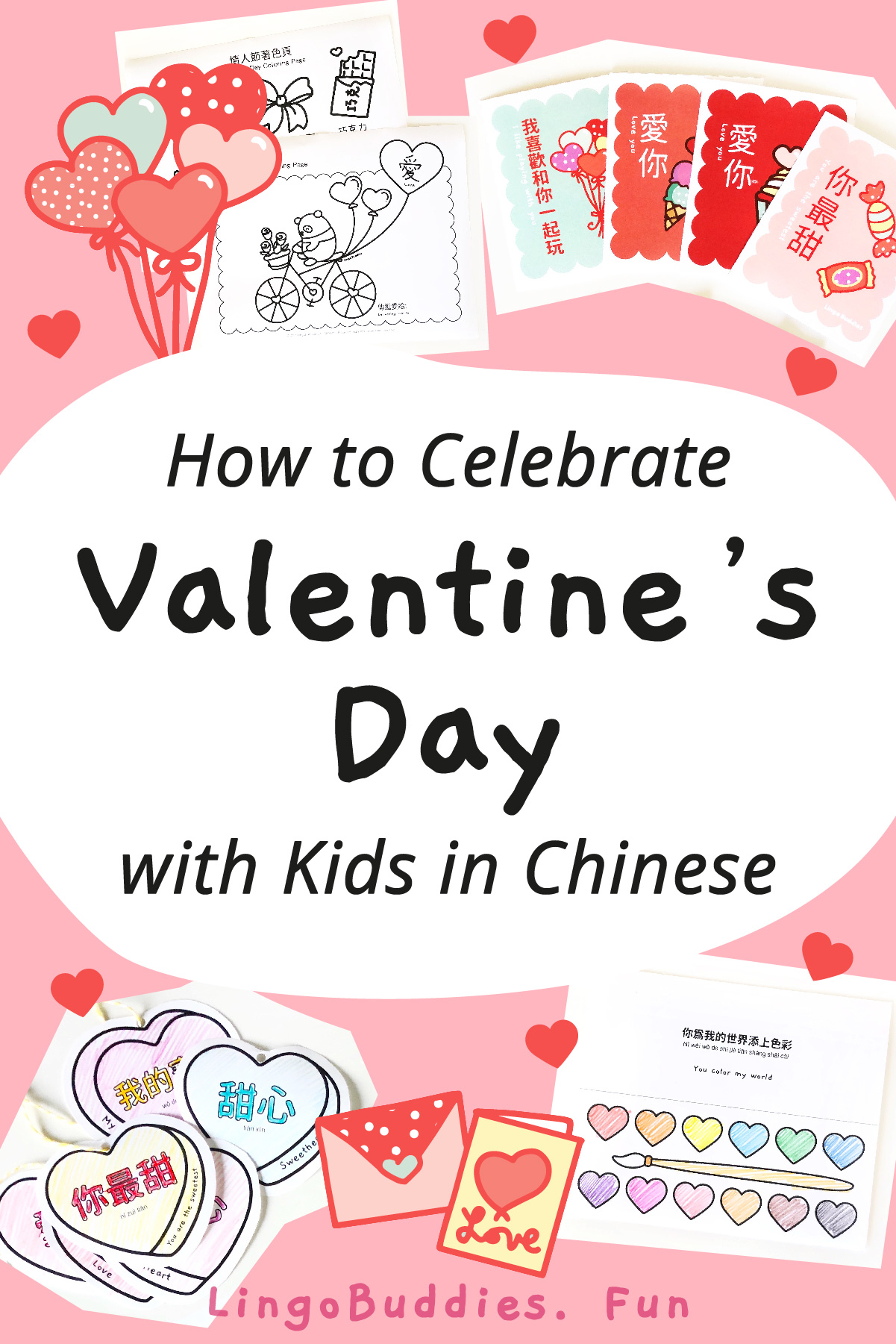 Valentine's Day is a wonderful opportunity to teach children about love!  Their love for grandparents, parents, teachers, playmates, siblings, relatives, friends, and even pets!  Not only that, your children can learn how to express their love by making something special with their hands.  Whether it's making a card, wrapping a gift, or baking a cookie, their involvement helps build appreciation as both a recipient and a giver of gifts.  But there's more!  Why not use this festive holiday as a chance to teach your children Mandarin Chinese?  Here are a handful of Valentine's Day activities that your children will enjoy while being immersed in Chinese.
Easy Valentine's Day Activities
This year, send as many Valentine's Day cards as you like because making cards have never been easier!  You can choose the colored version or color your own with your kids.  For a more fun surprise, why not add some crayons or colored pencils to the cards as gifts to your kids' friends!  The set also comes with a template that you can print on the backside for the recipient's name in a heart!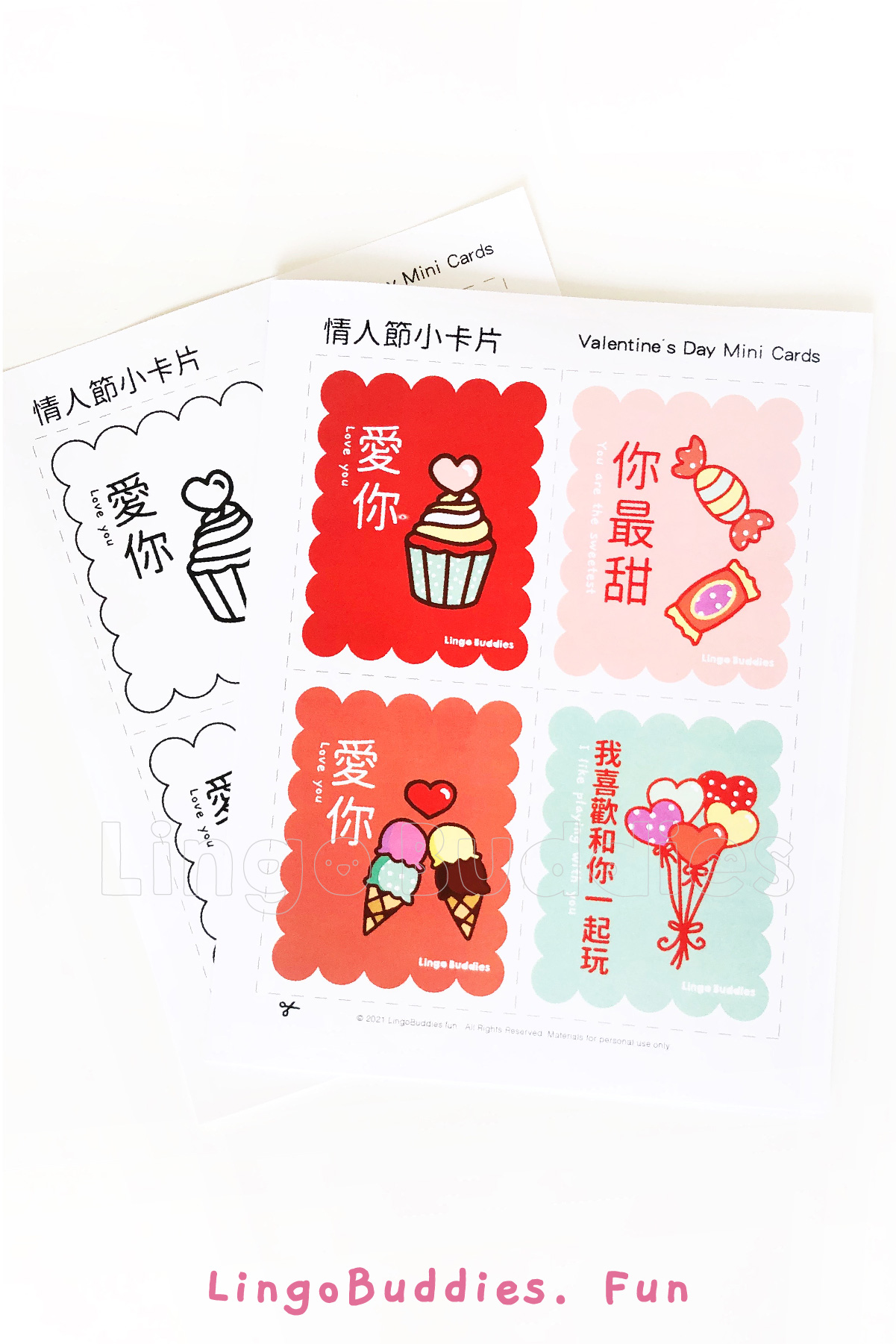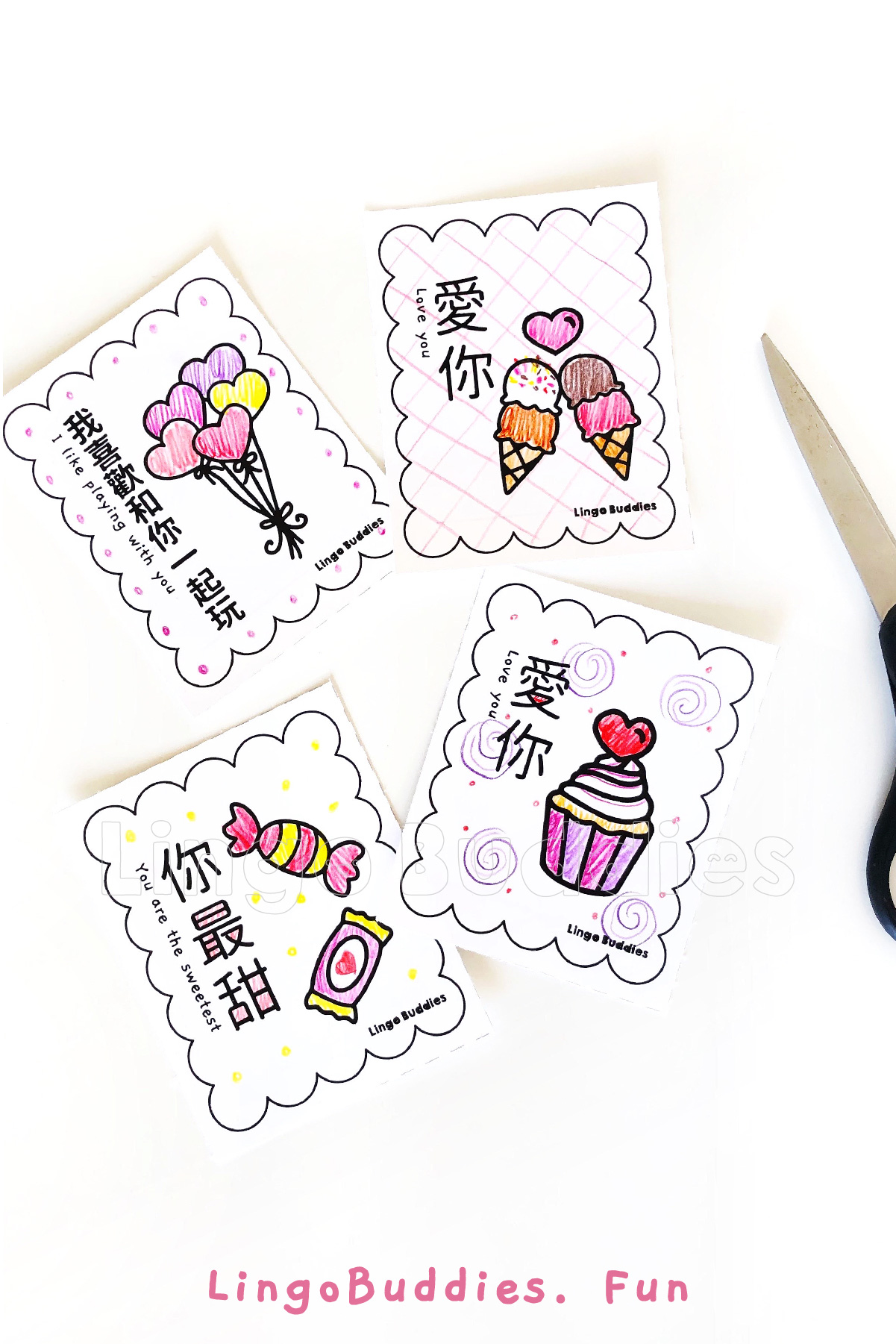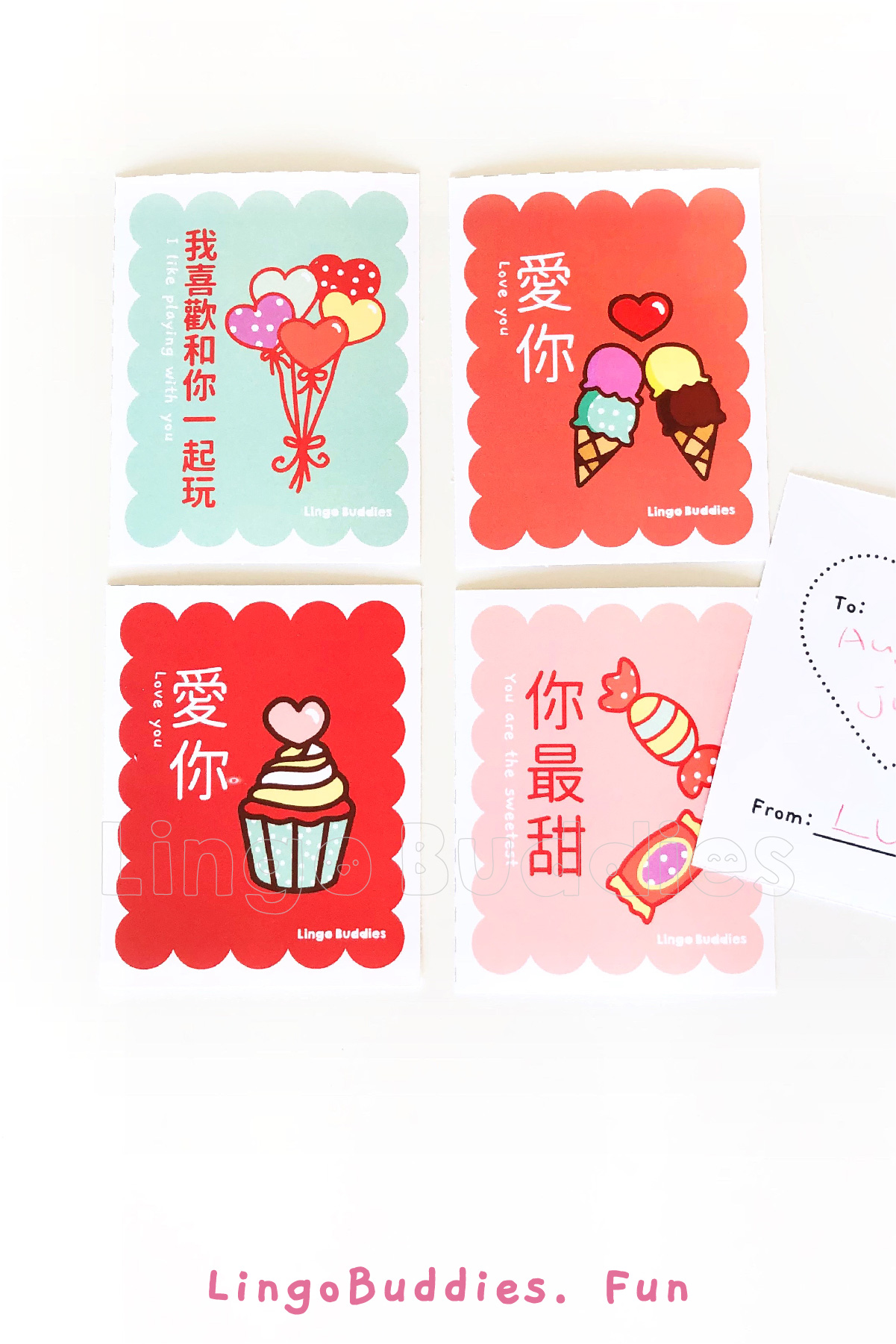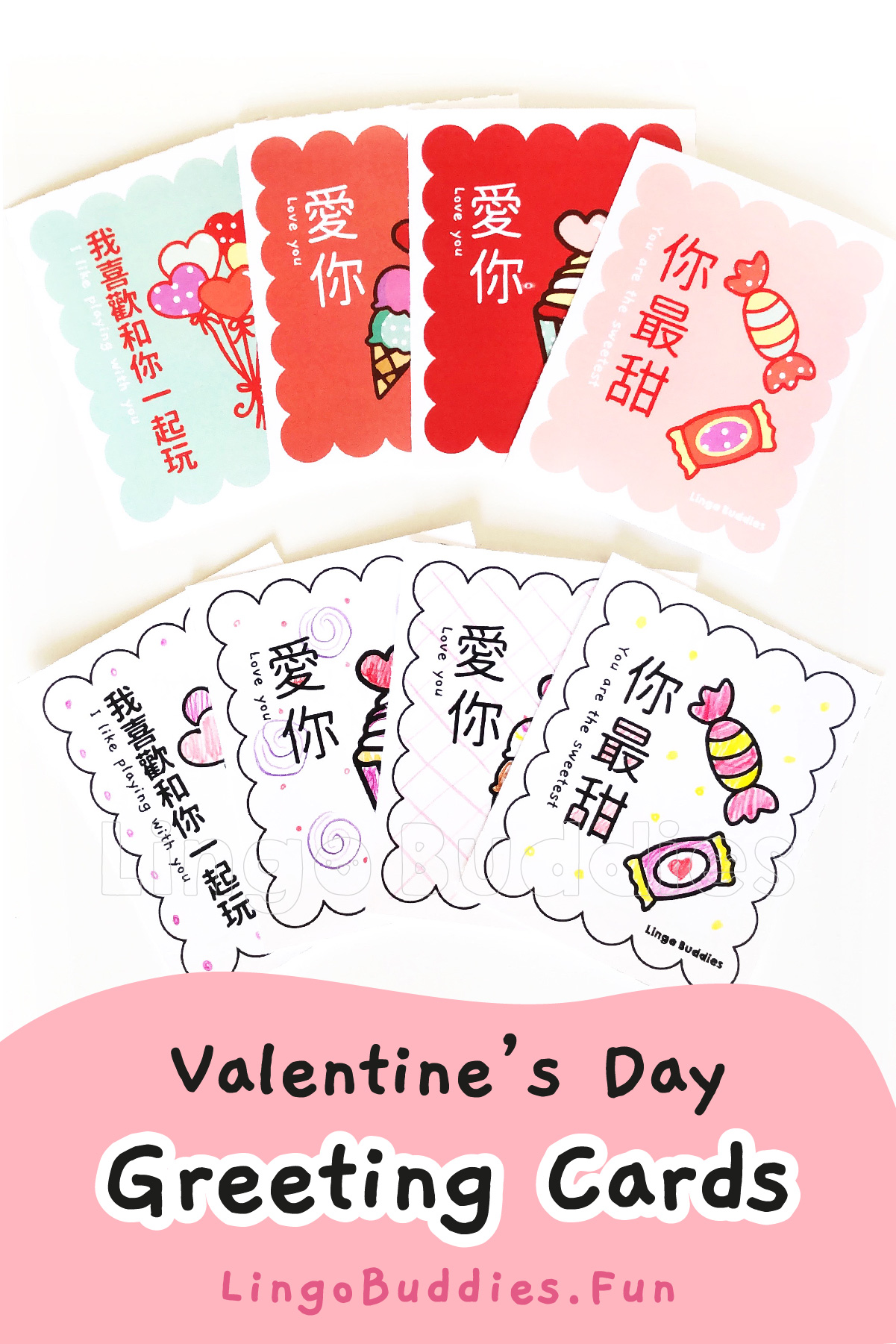 Color My World Card
"You Color My World" is the perfect Valentine's Day card to make!  Print it on heavy card stock paper and have your kids color away!  Your kids' finished cards will certainly melt hearts and make a sweet keepsake for friends and/or family members.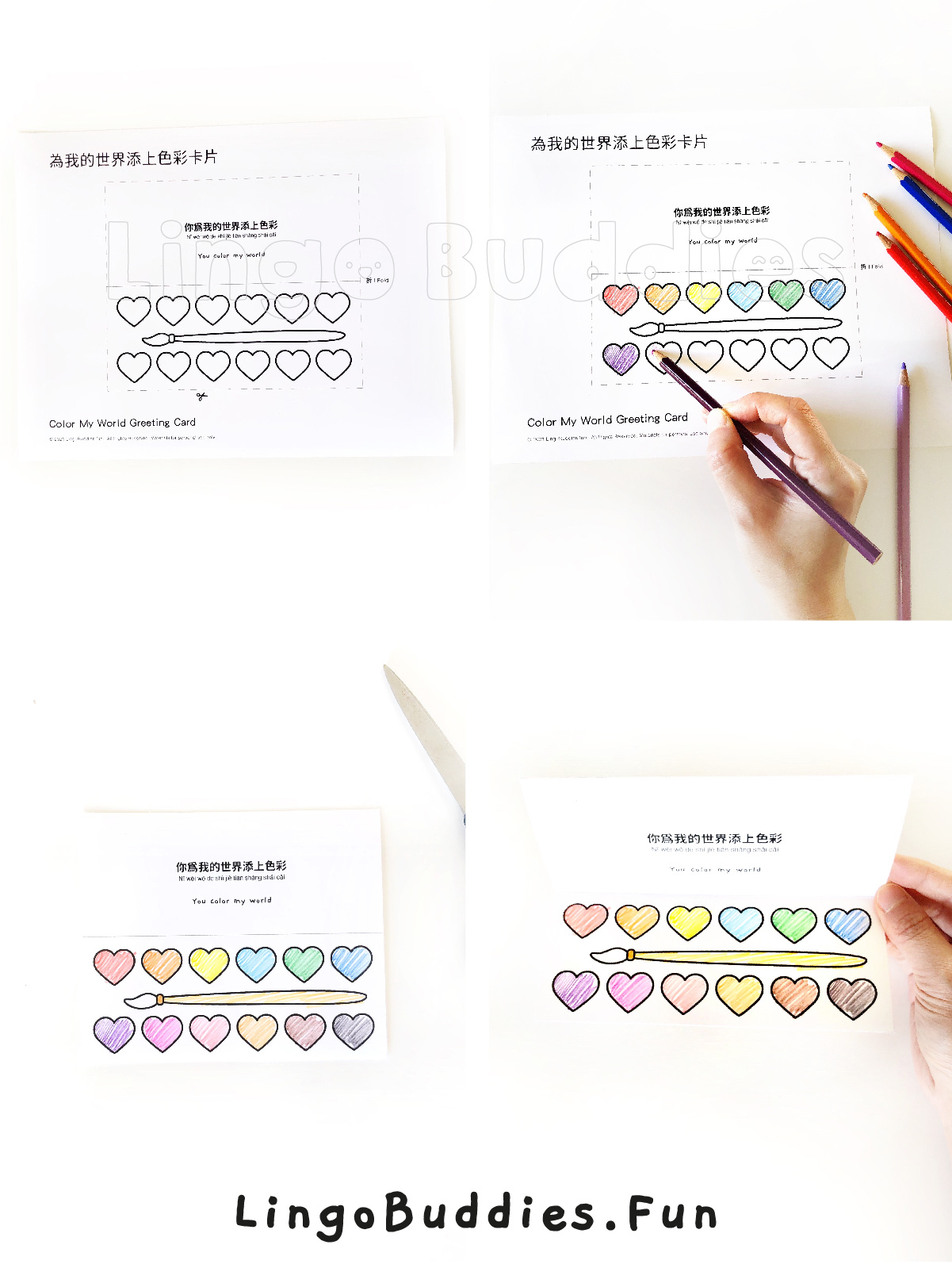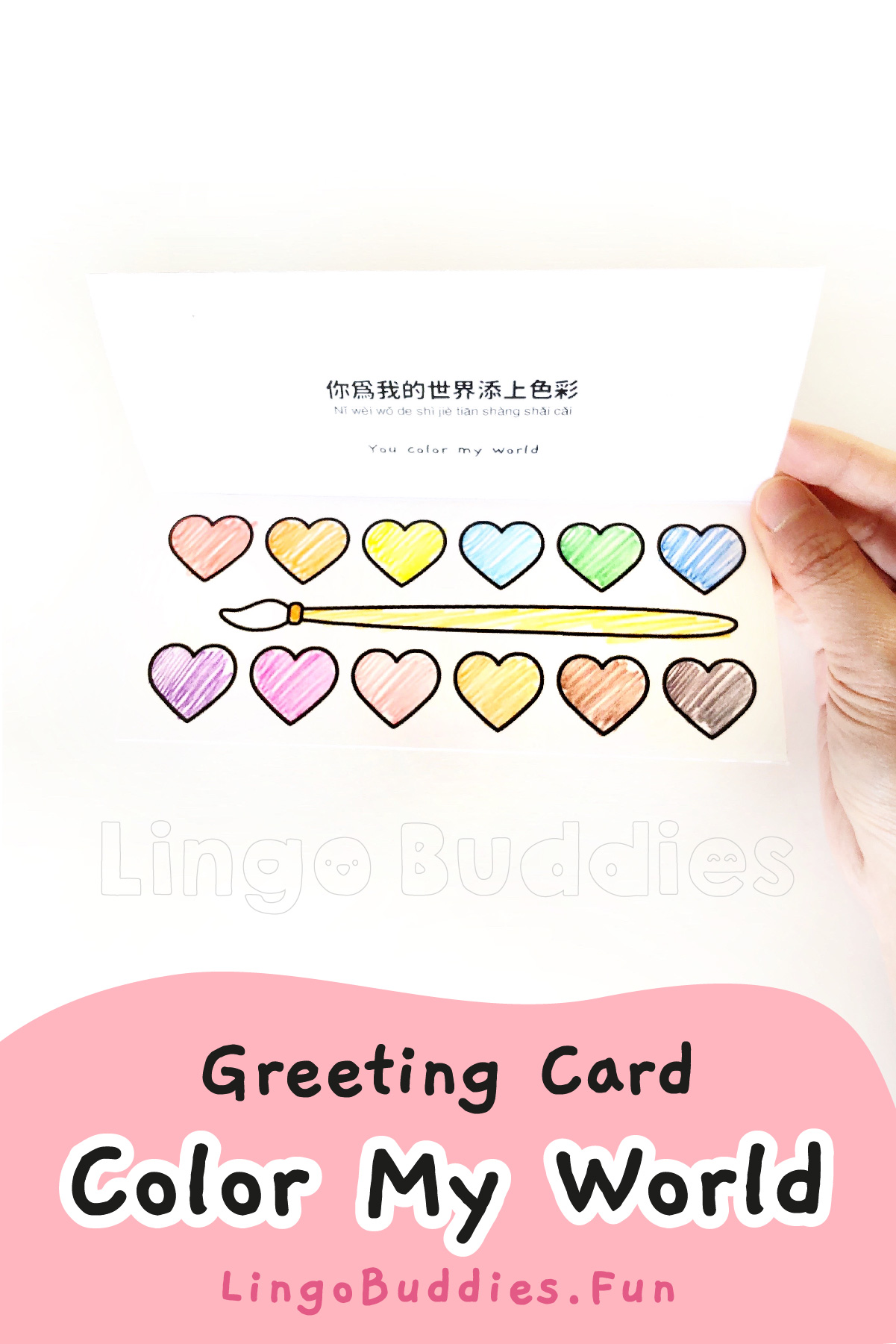 Candy Heart Tags
Valentine's Day wouldn't be the same without candy hearts!  These cute candy heart cutouts are perfect for decorating and learning all the sweet talks!  Your kid will have so much fun coloring them in and saying out loud these sweet words.  String them to make a festive garland or put them on the fridge as a sweet display.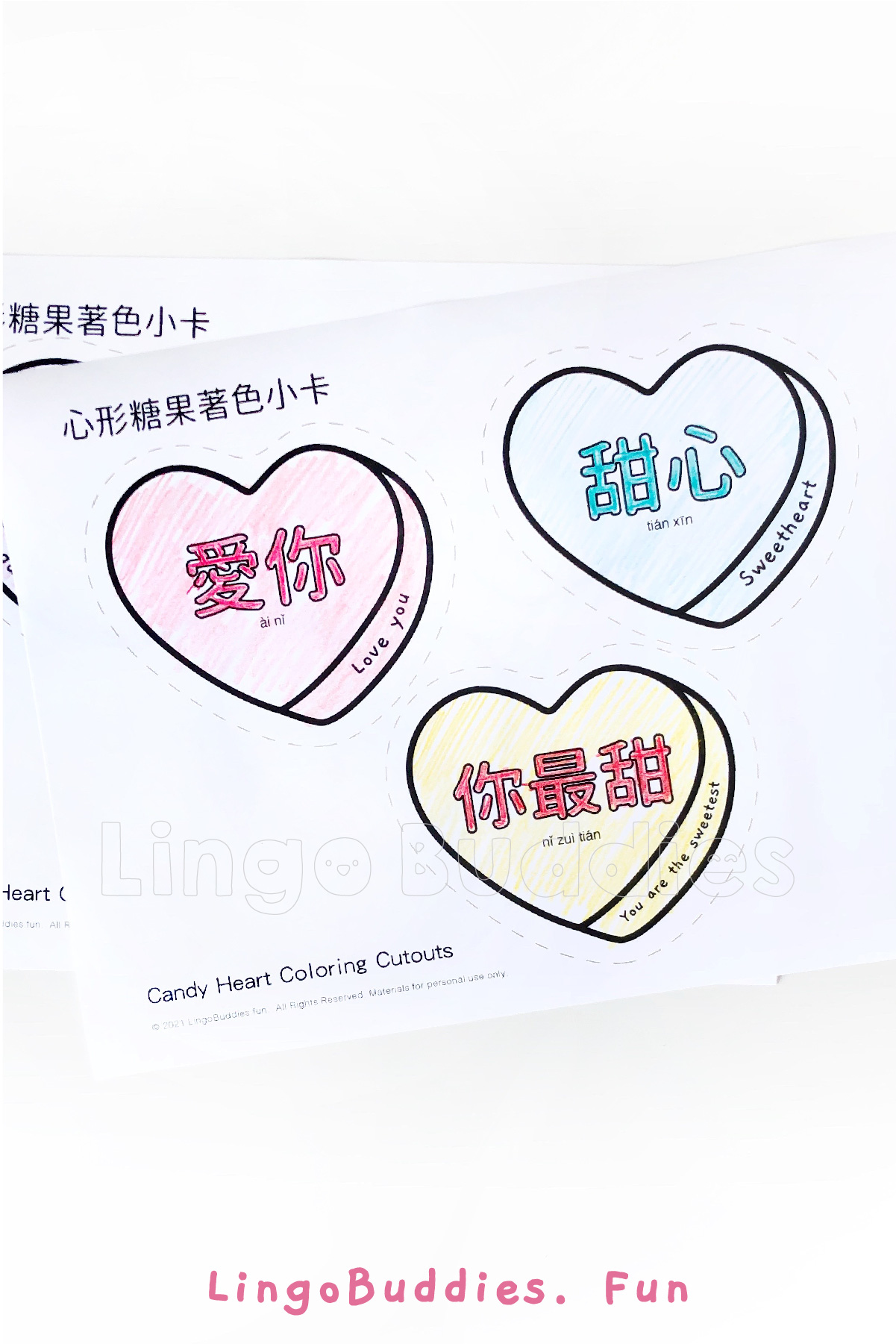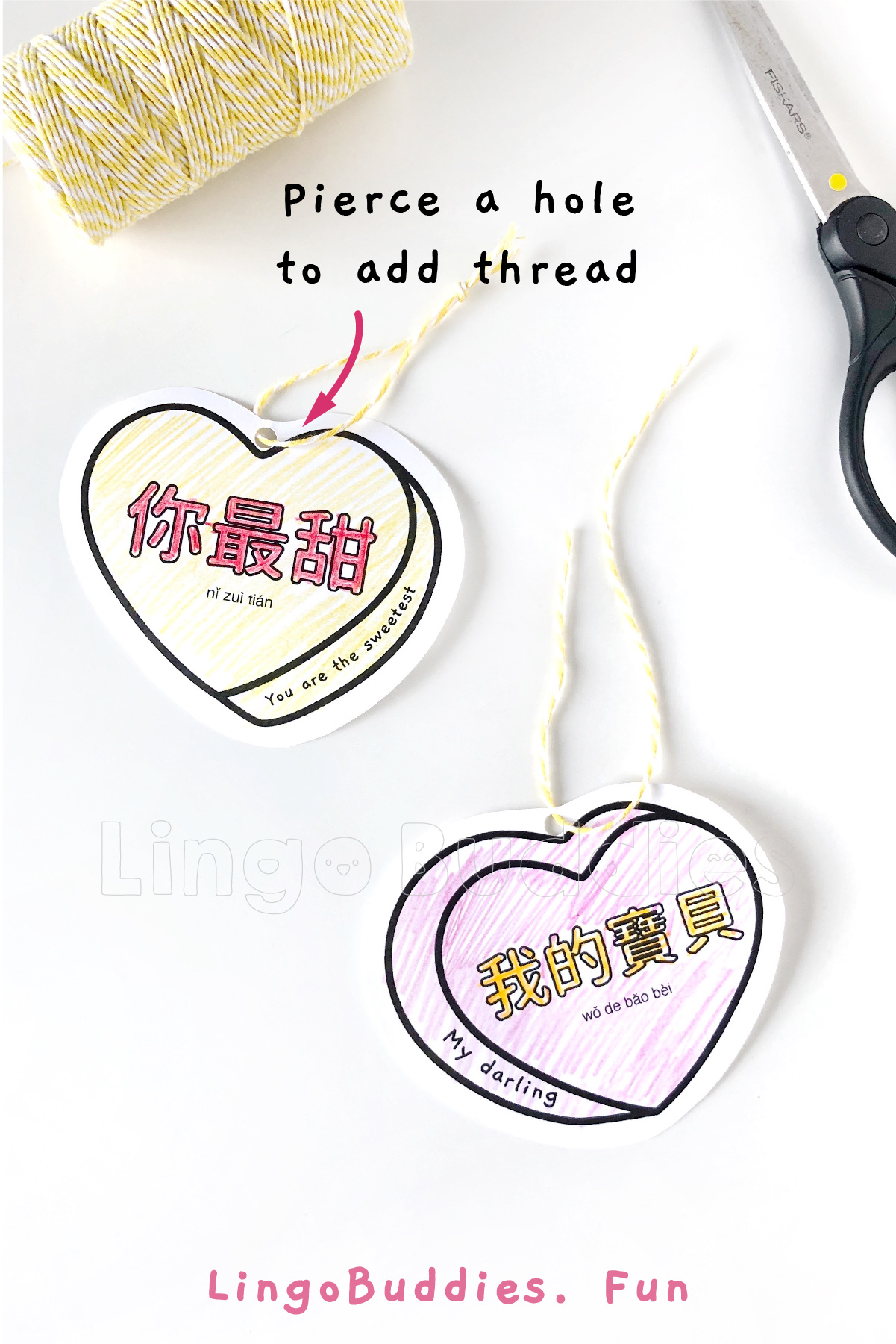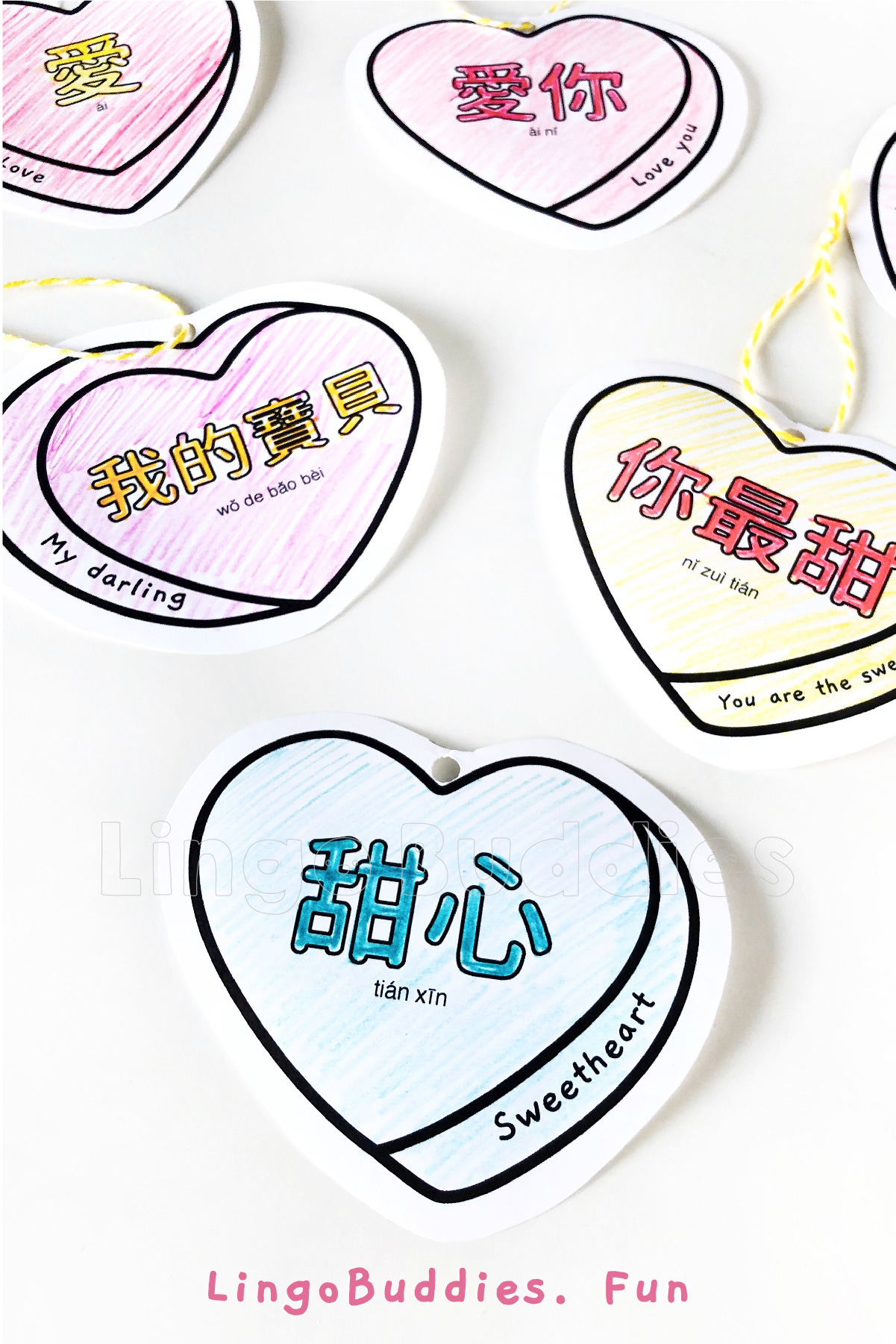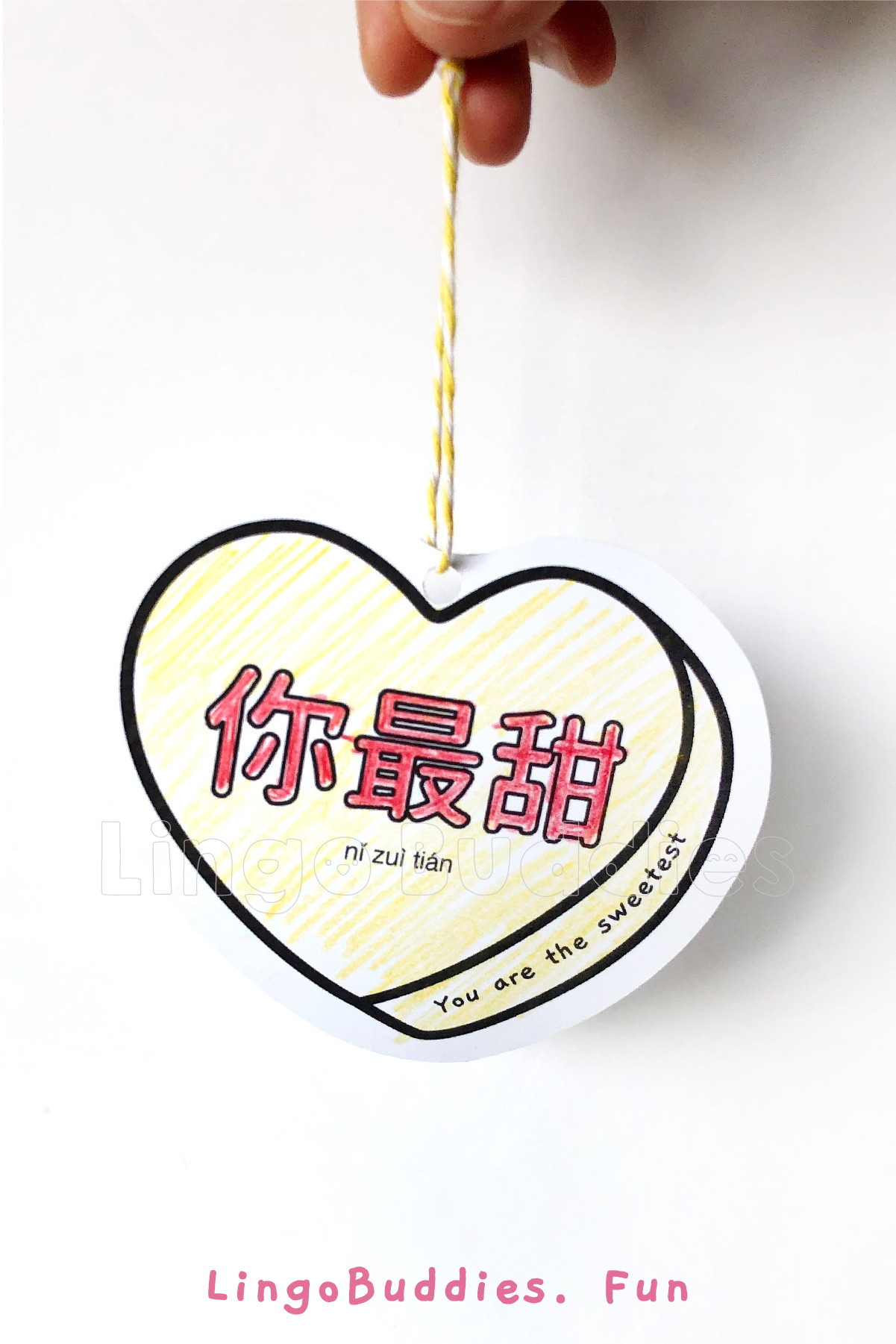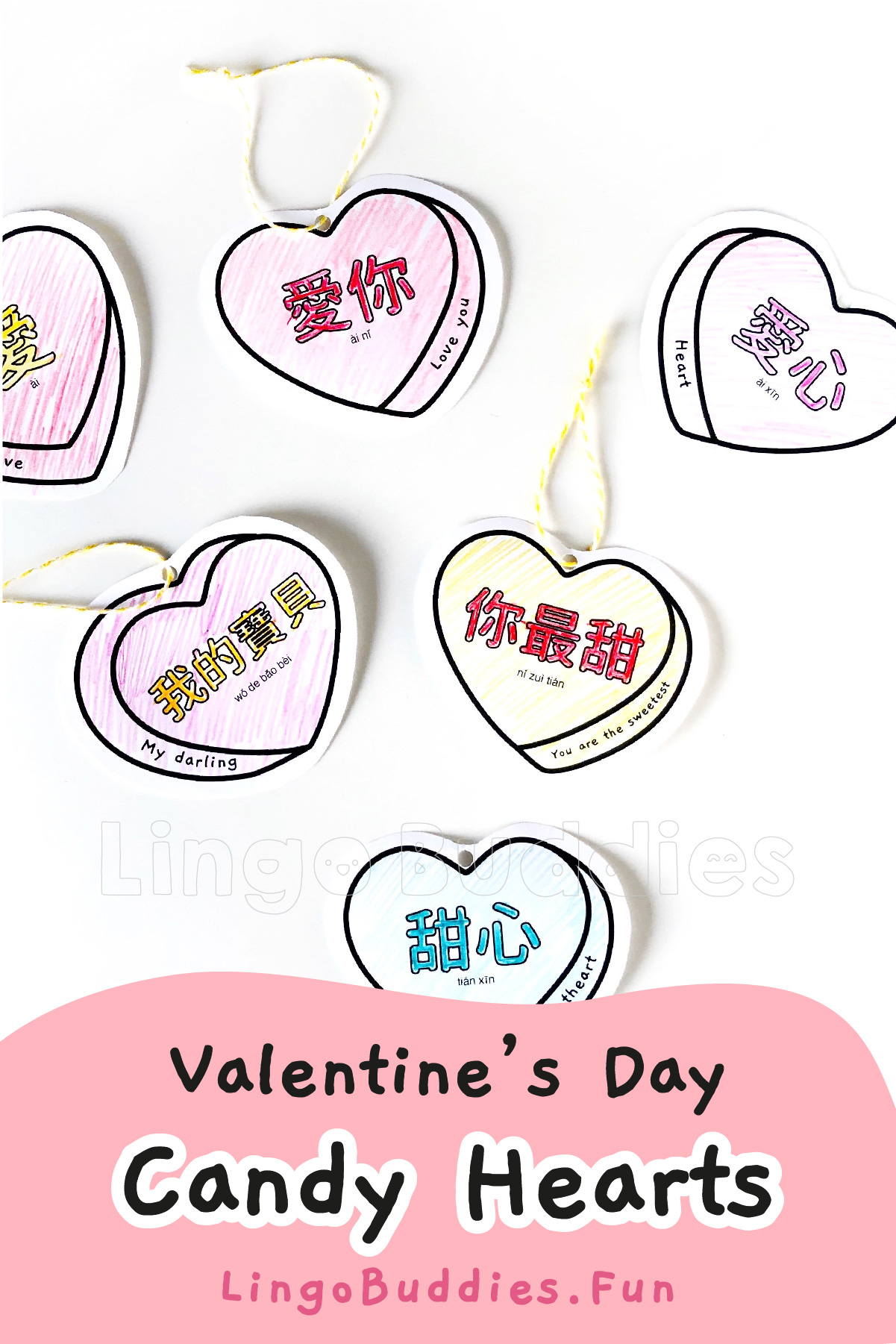 Color By Sight Character
Reinforce Chinese character recognition and formation using this Color By Sight Character activity.  This activity focuses on 3 Chinese characters, "愛 ai","心 xin" and "甜 tian" which means love, heart, and sweet.  You will find these characters everywhere during Valentine's Day.  Help your child learn how to identify these Chinese characters in different fonts and practice using them to express their passion and love!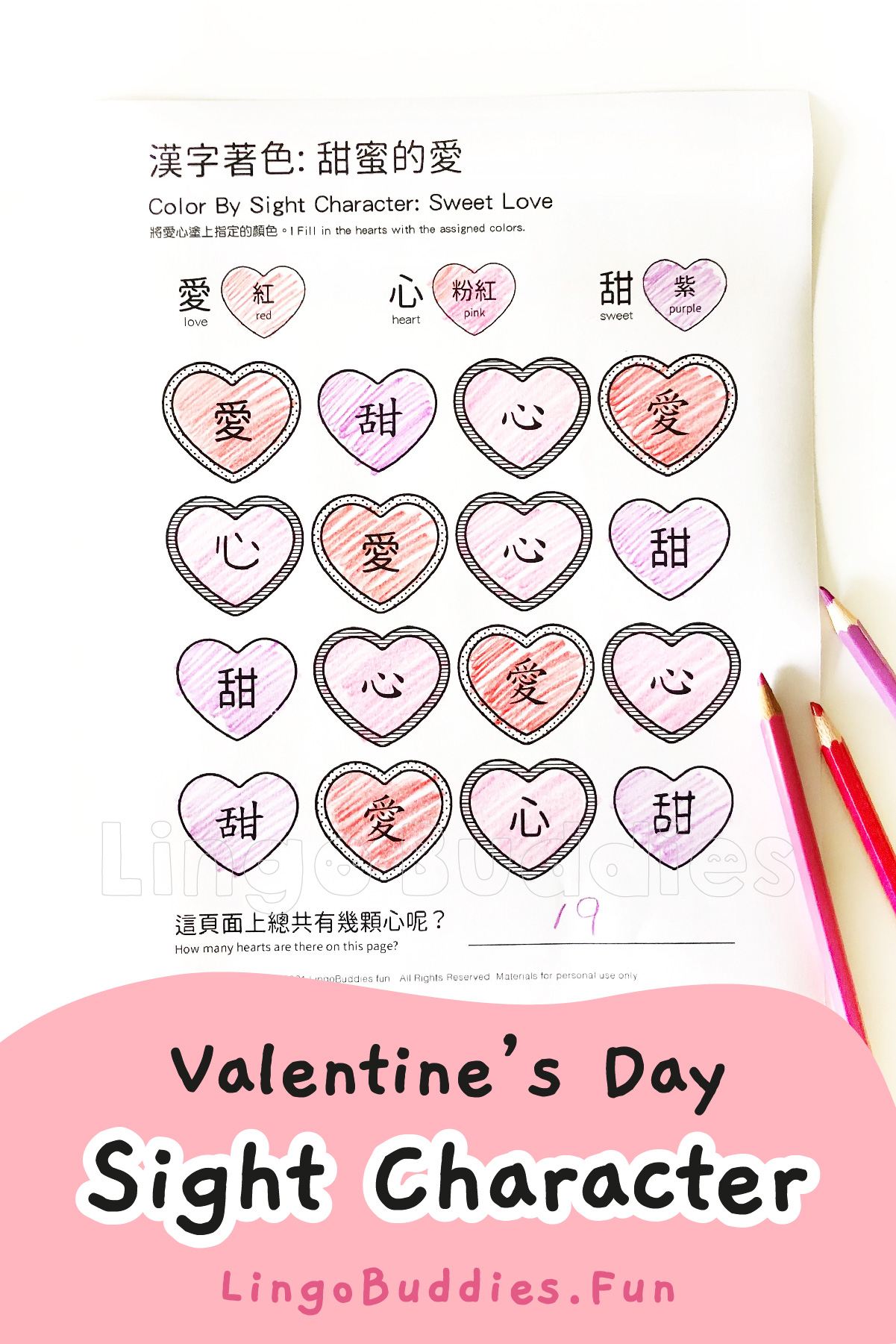 Valentine's Day Picture and Word Cards
Display these colorful Valentine's Day cards in the kid's area to provide a colorful visual aid to reference when learning about common Valentine's Day words.  Use them as a word-to-picture matching game, or a color matching game by pairing together the same border colors.  If you have these objects at home, set them out and get your kids to match up the item to the right word card.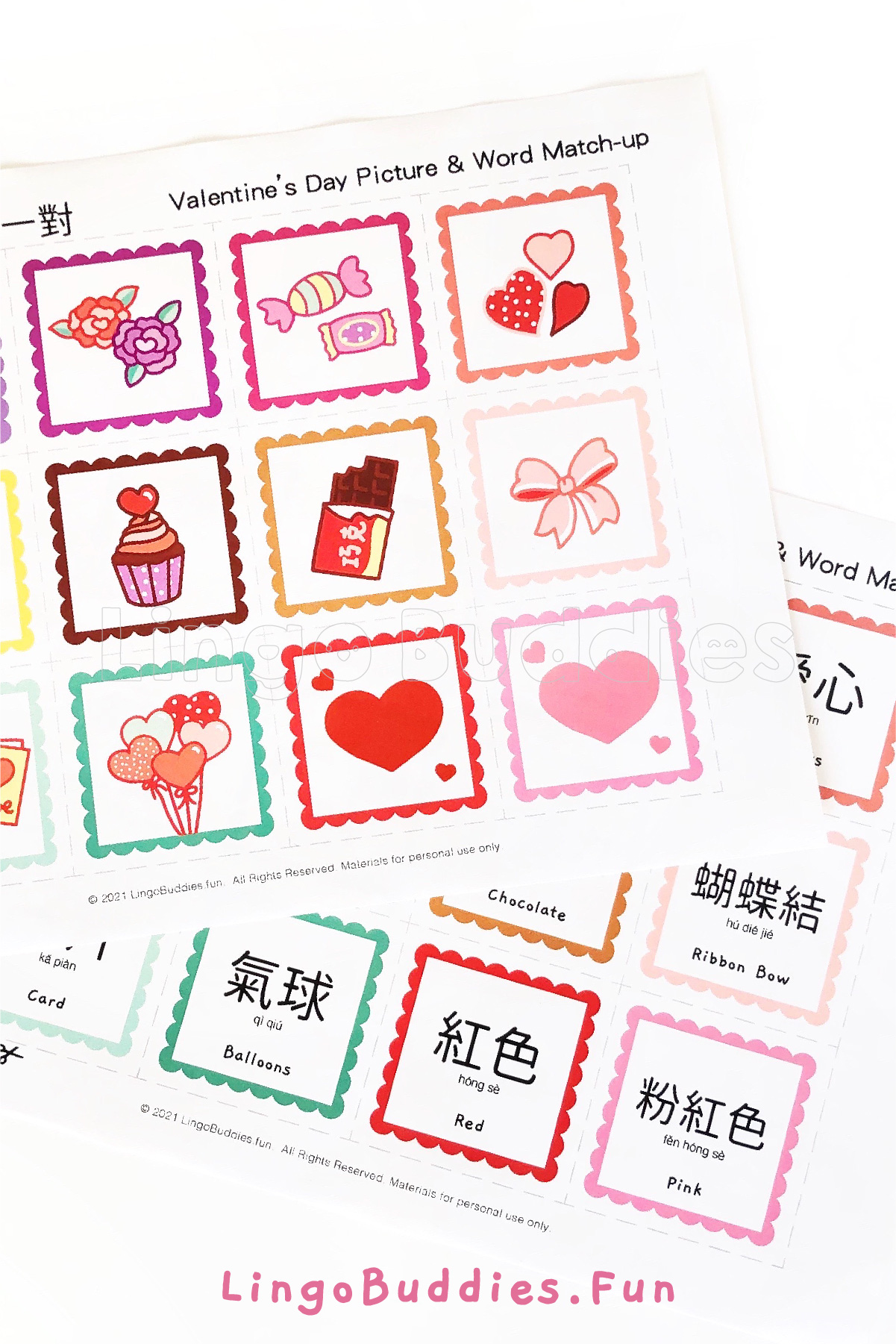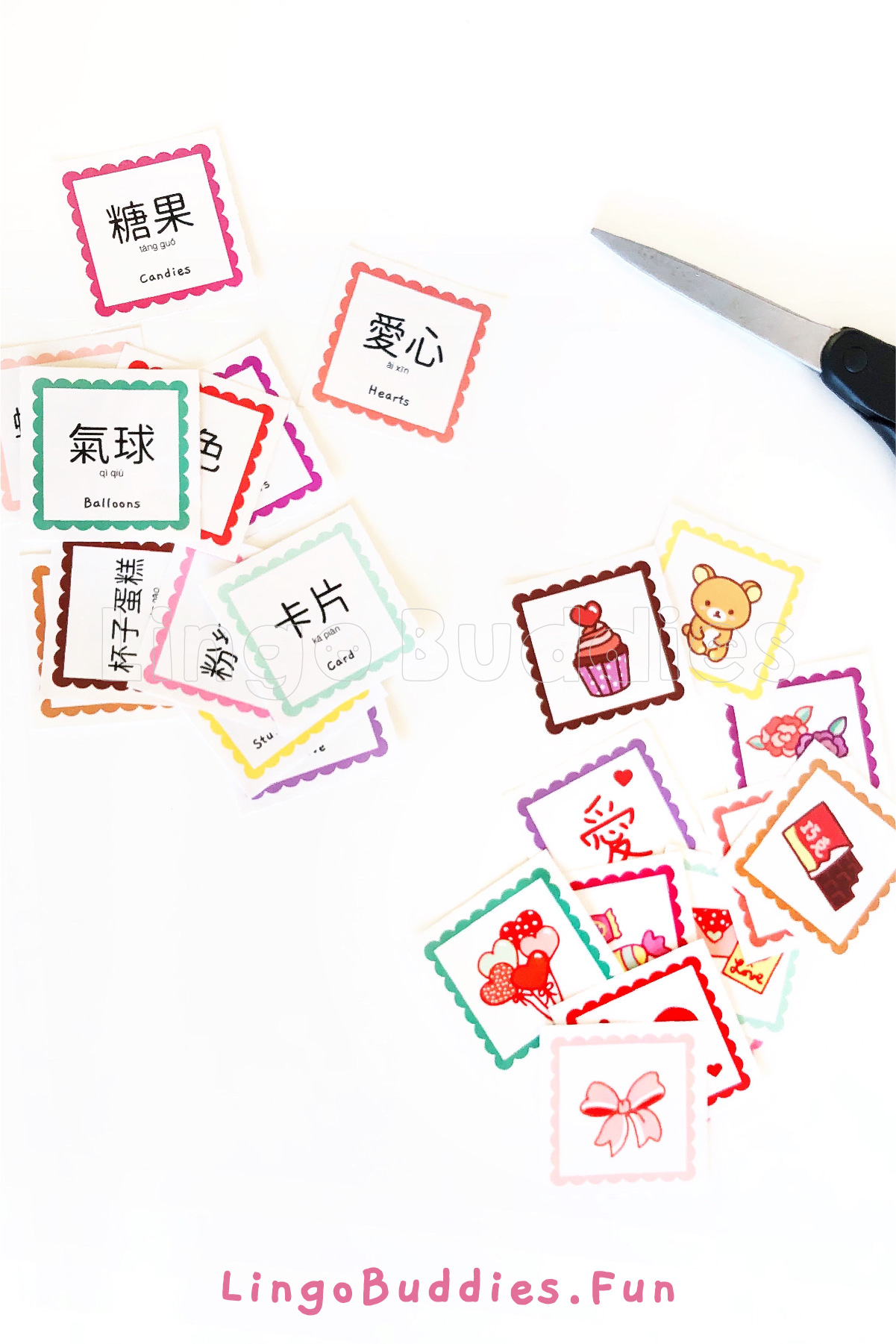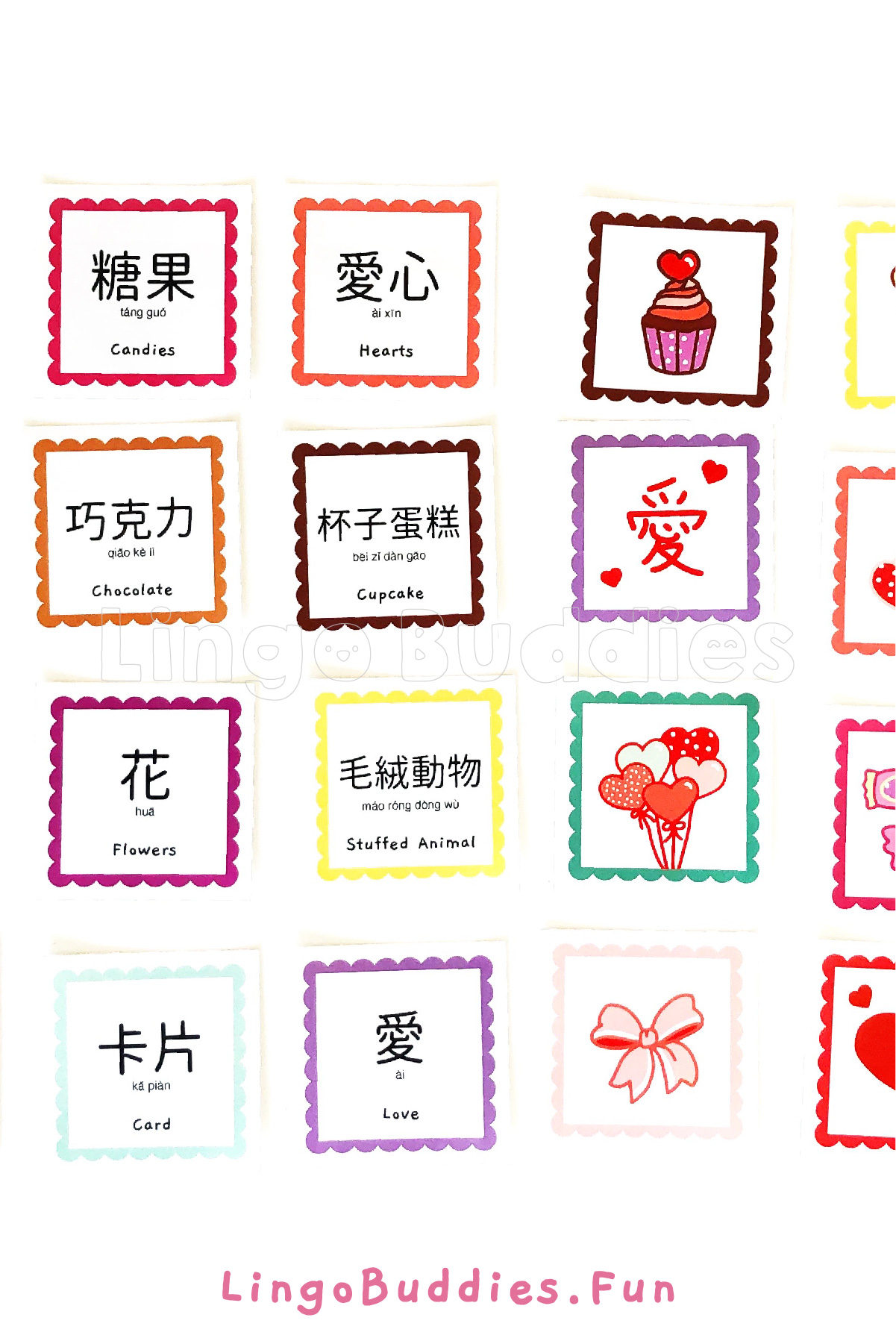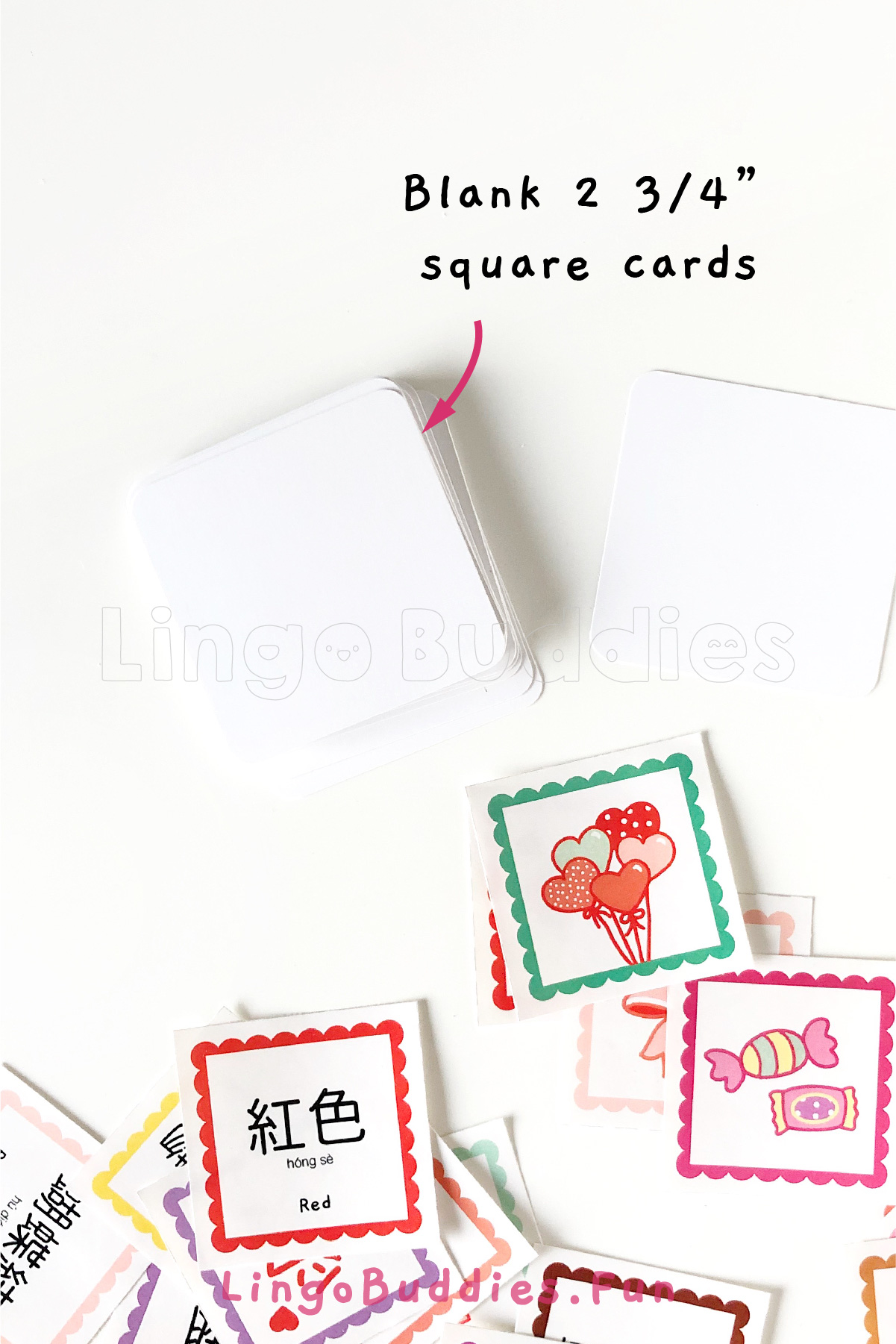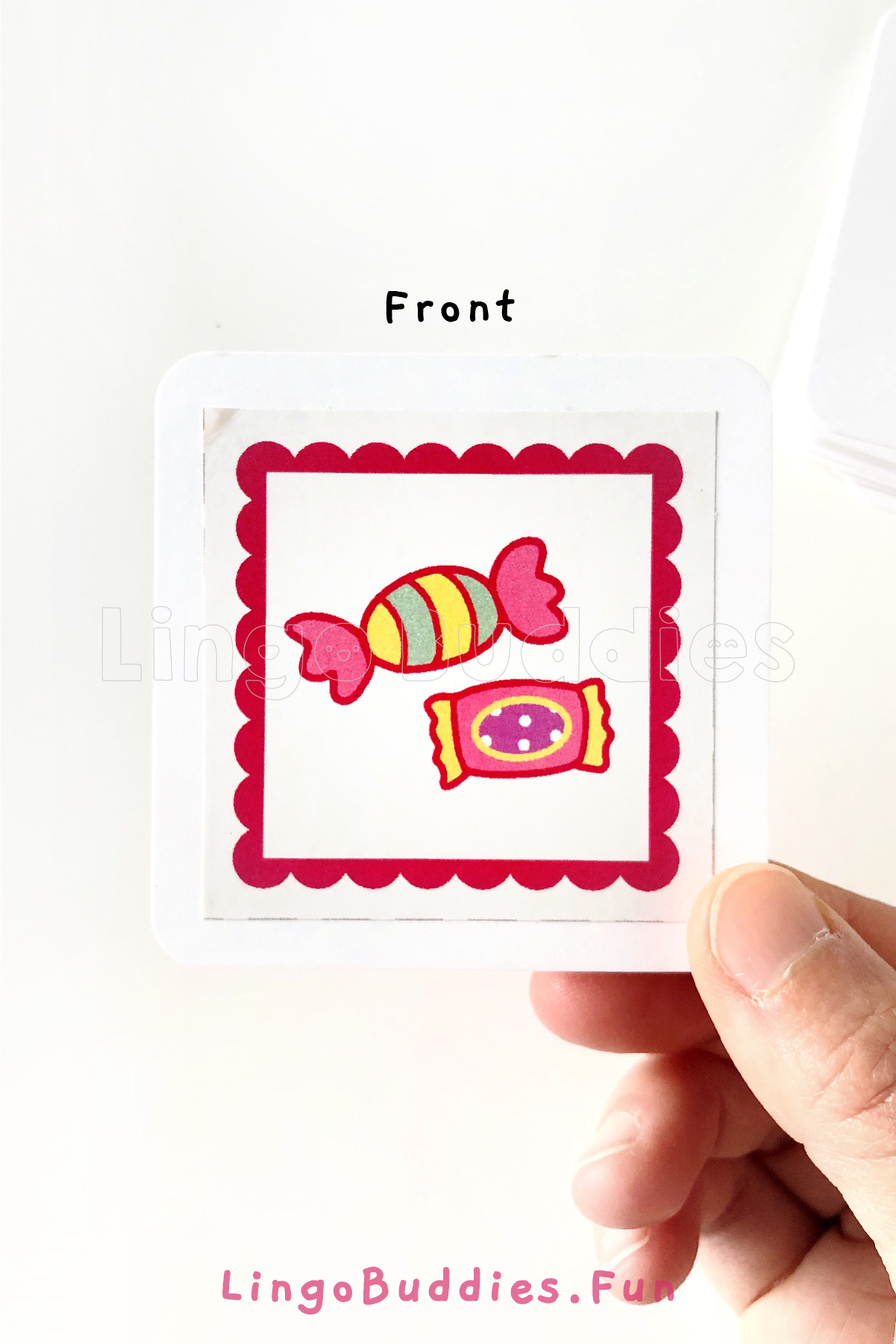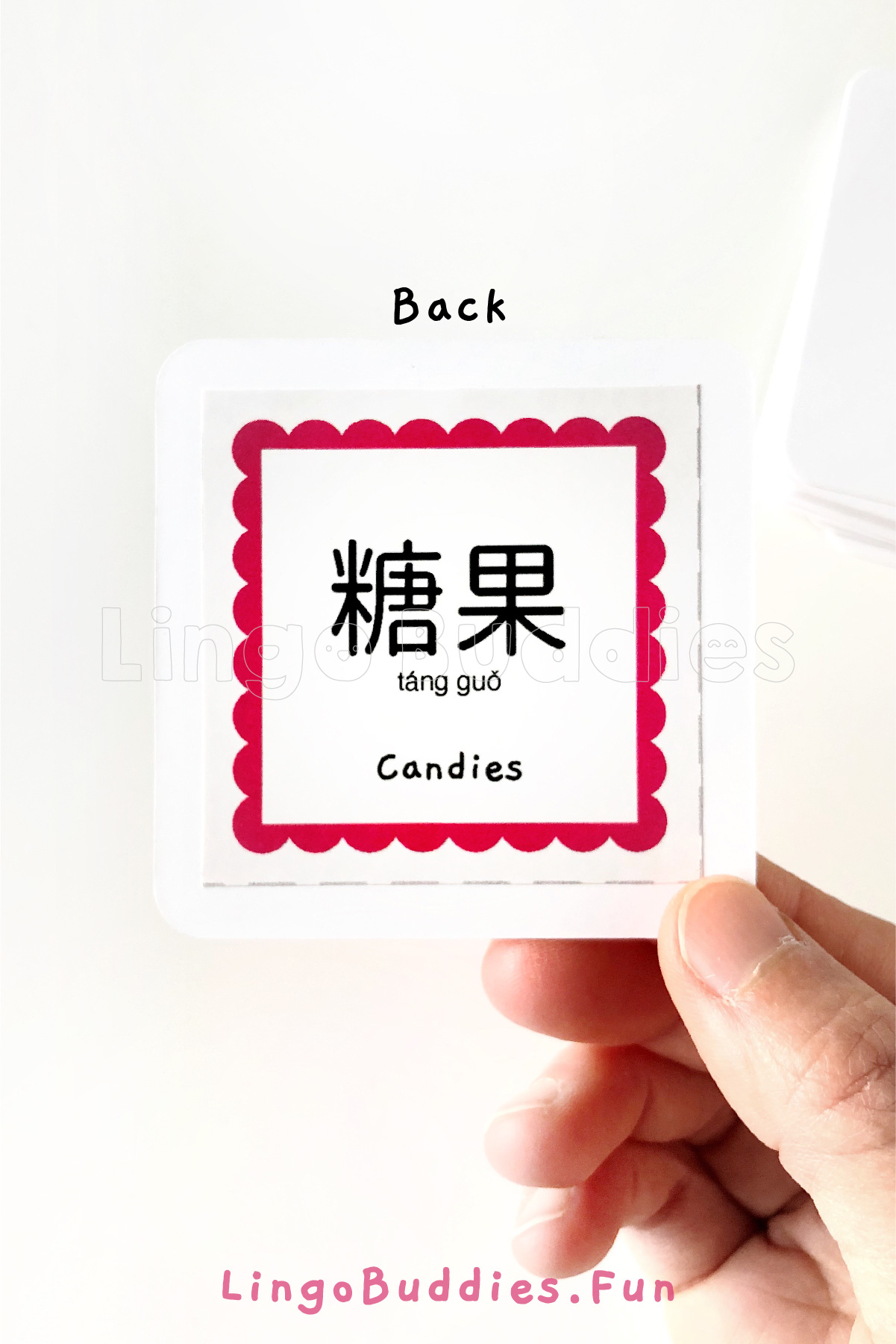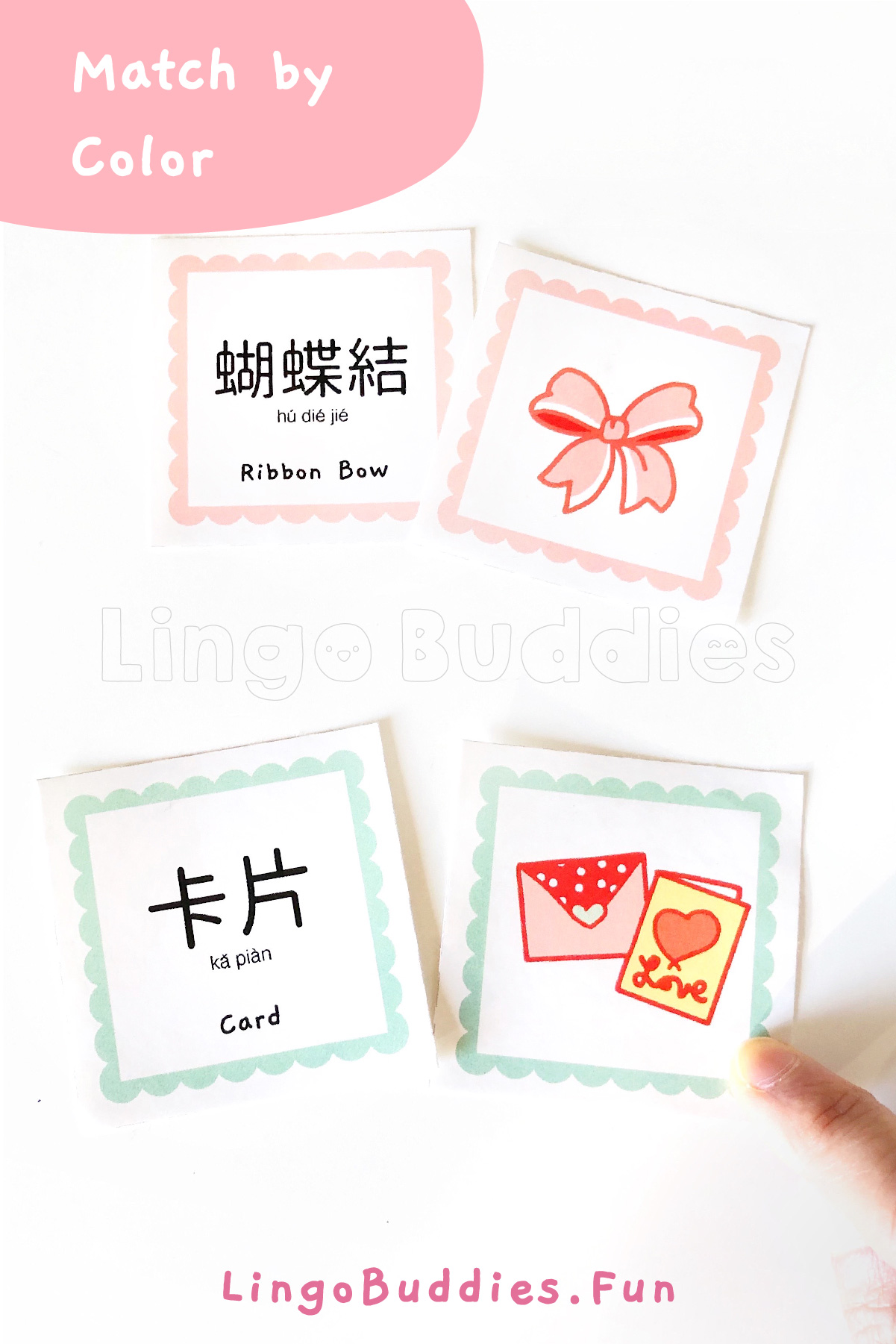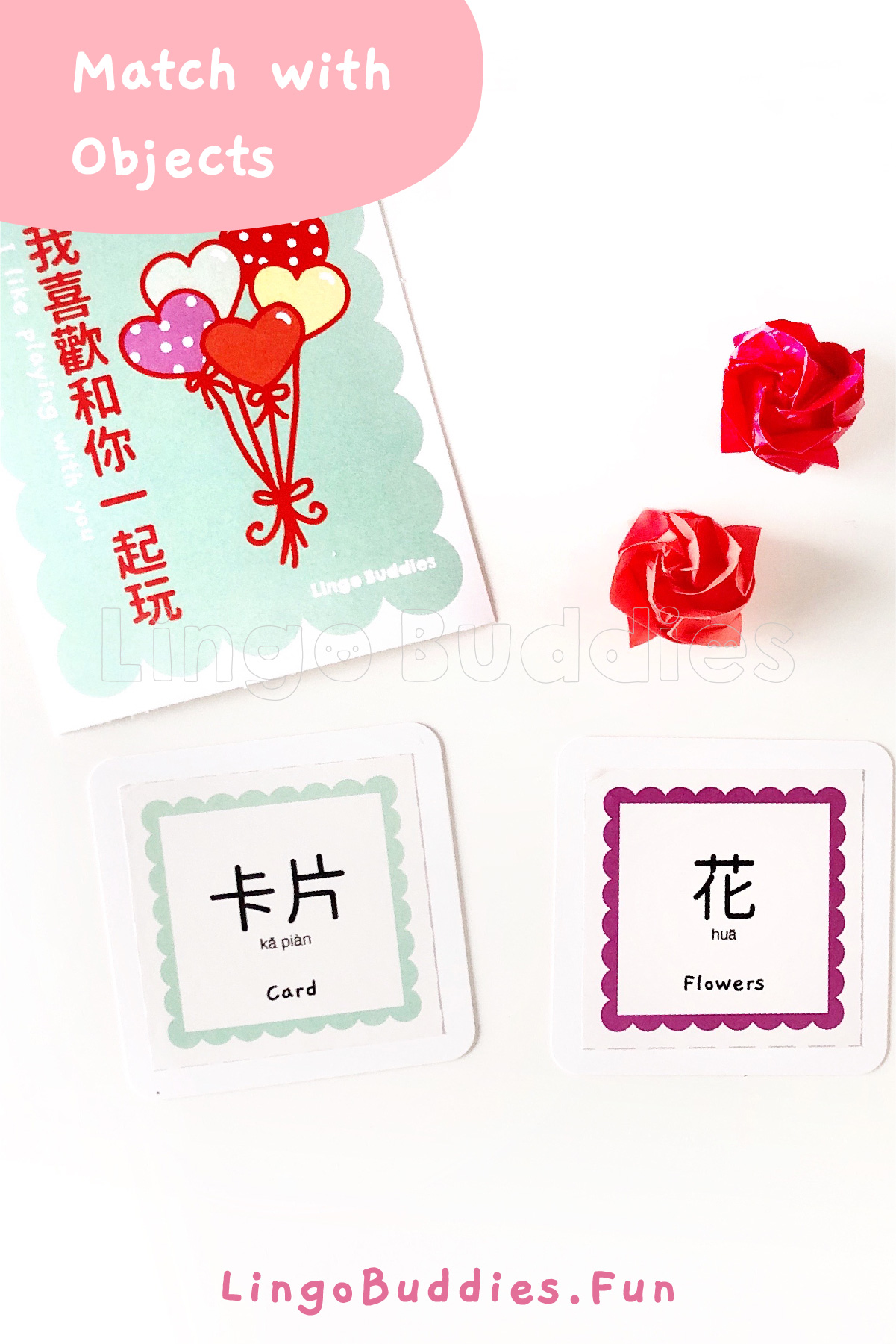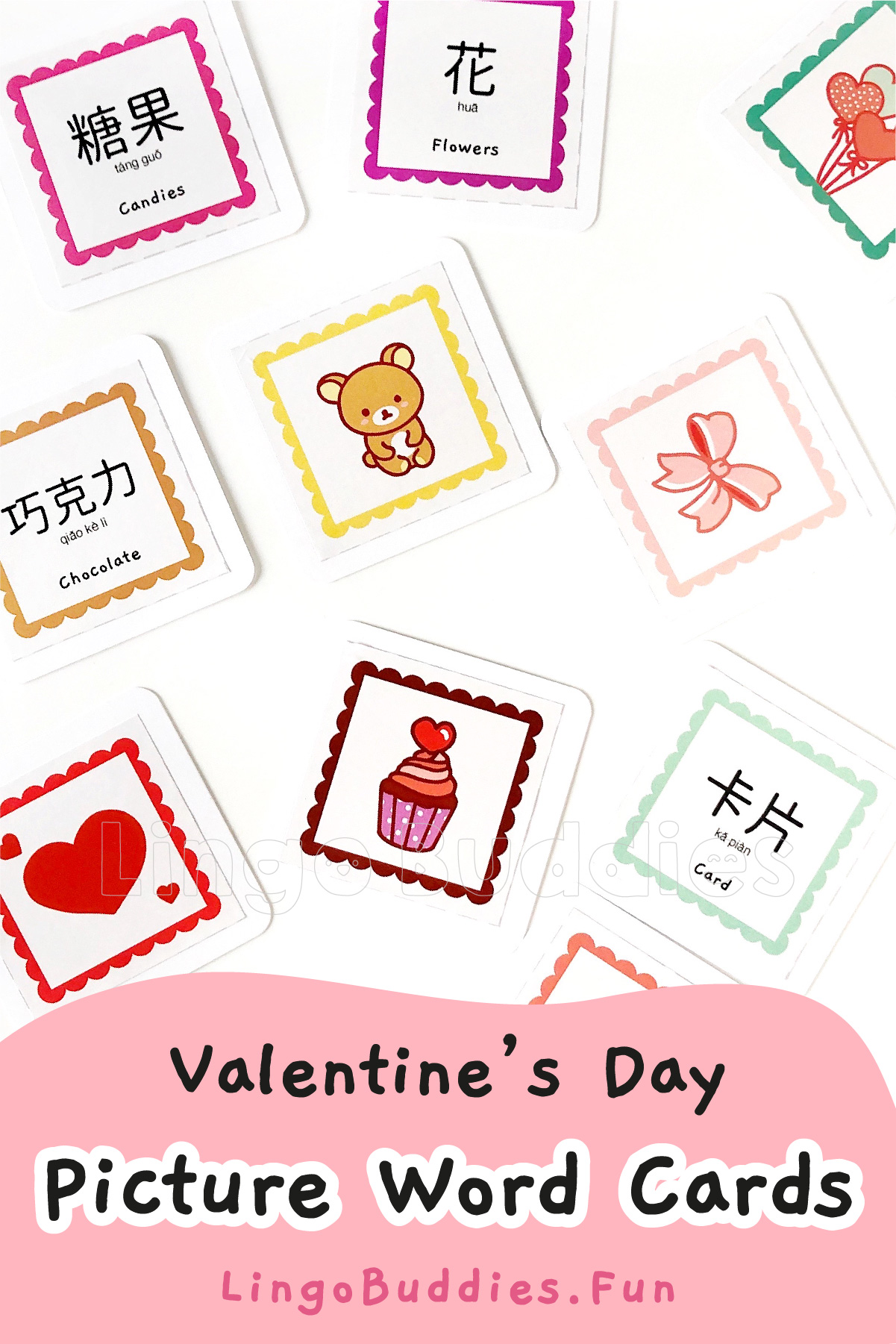 Valentine's Day Coloring Pages
Valentine's Day coloring pages are a great afternoon pastime for the whole family.  One coloring page features the favorite items of Valentine's Day with romantic heart-shaped balloons, frosted cupcake, cute ribbon bow, sweet greeting card, and of course, chocolate!  The other features a panda delivering flowers and hearts!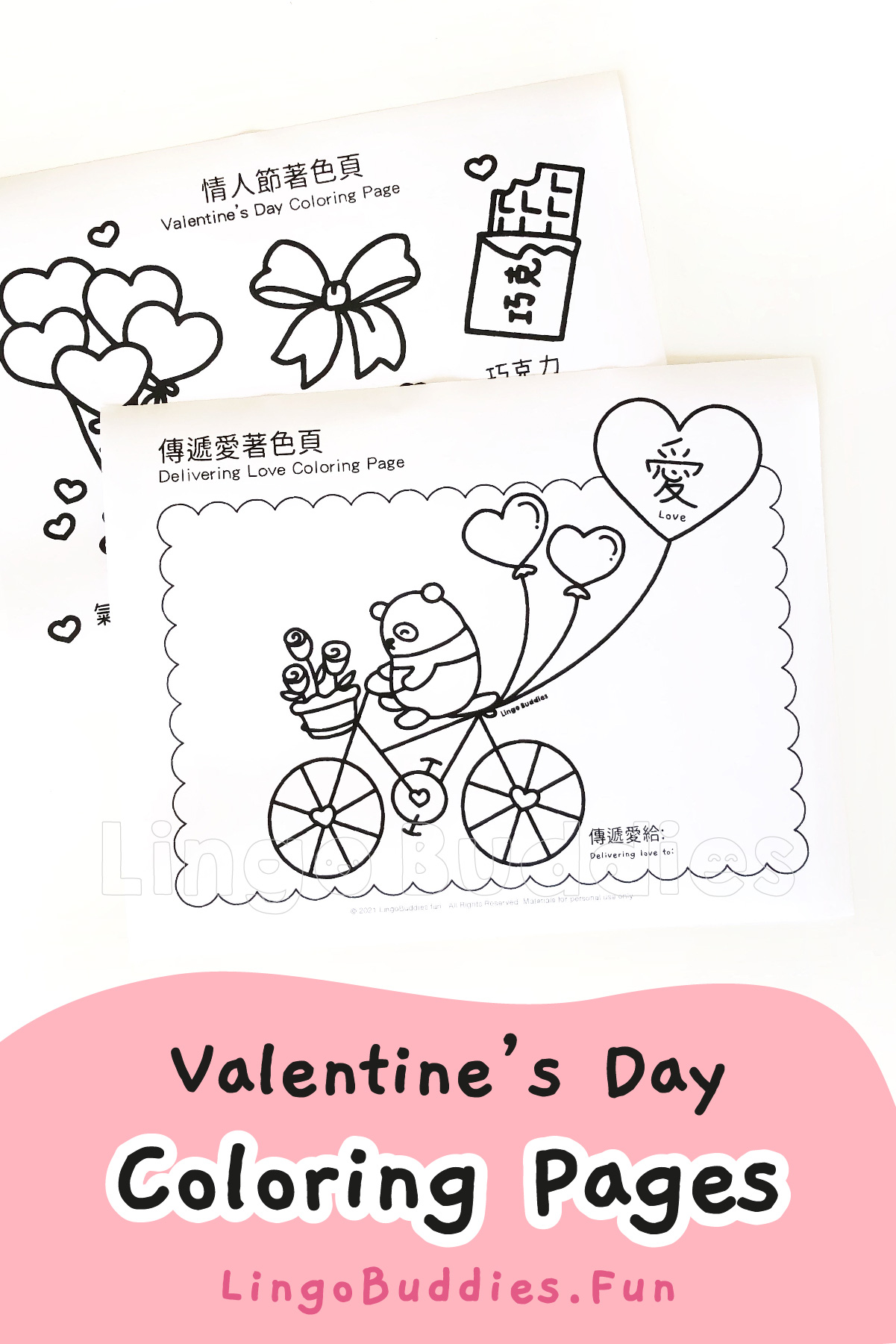 Valentine's Day I-Spy
I Spy...a heart!  I-Spy game is always a classic.  Extend the activity by asking your child to color in the items with his or her favorite colors. 
Valentine's Day Scavenger Hunt
This Valentine's Day Scavenger Hunt printable makes a great activity for Valentine's Day! You can invite other families to play it together online.  The kiddos will go look for the objects in the house and then collect the items.  At the end of the session, they will show off the objects they found to the whole group.  This Valentine's Day Scavenger Hunt guarantees to be a fun and engaging hangout!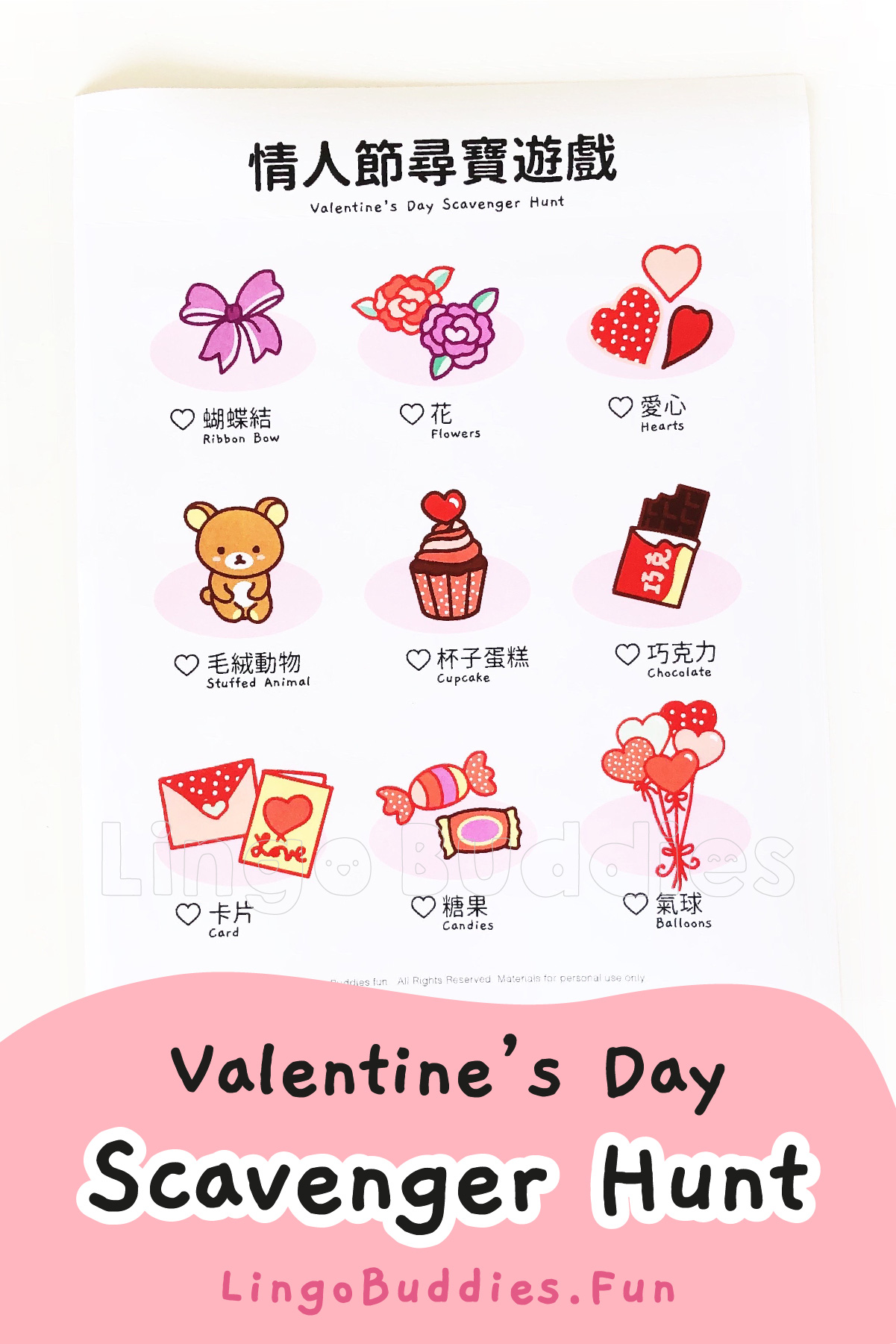 Valentine's Day Vocabulary Video
Play this video to practice the common Valentine's Day vocabularies in Mandarin Chinese!  Why not follow along with your kids and look for the matching word or picture cards together?  
While Valentine's Day is celebrated on February 14th in the U.S., Canada, United Kingdom and many other countries, this holiday of love is celebrated on a different date in China, Taiwan, Japan, Korea and other Asian countries.   In China, this holiday of love is called "Qixi Festival" [七夕節 | 七夕节 | qī xì jié] and it is celebrated on the 7th of the 7th month on the Chinese lunar calendar.  Here are the dates for each year:
2021 August 14th
2022 August 4th
2023 August 22nd
2024 August 10th
2025 August 29th
How is QiXi Festival Celebrated?
Qixi Festival is influenced by a popular folk legend known as "Niulang and Zhinu" [牛郎與織女 | 牛郎与织女 | niú láng yǔ zhī nǚ].  According to the legend, the cowherd, Niulang, and the weaver girl, Zhinu were deeply in love, but they were split up by the Goddess of Heaven because a mortal was forbidden to marry a goddess.  The Goddess of Heaven slashed the sky with a hairpin and created the Milky Way which separated the couple for eternity.  The two are only allowed to reunite once a year on the 7th of the 7th lunar month.  So on this day, you will often find people gazing up at the constellation to look for the two bright stars shining on the opposite side of the Milky Way.  Some other traditions include worshipping the weaver girl, making embroidery crafts, and eating sweet pastry called "qu guo" [七果 | 七果 | qī guǒ] made with flour, rice flour, sugar and oil.
Many people celebrate QiXi Festival like western Valentine's Day.  Couples plan a romantic dinner and exchange gifts like chocolates, sweets, and flowers.  Children give out candies and cute Valentine's Day cards to friends and teachers to express their tender love!  

I hope you enjoyed this roundup of Valentine's Day activities for your children.  If you are looking for more printable activities for various holidays, stop by the Resource Library and click on the topic "Holidays & Events".
Join Us for Unlimited Access