Frozen-themed Activities and Crafts for Kids Learning Chinese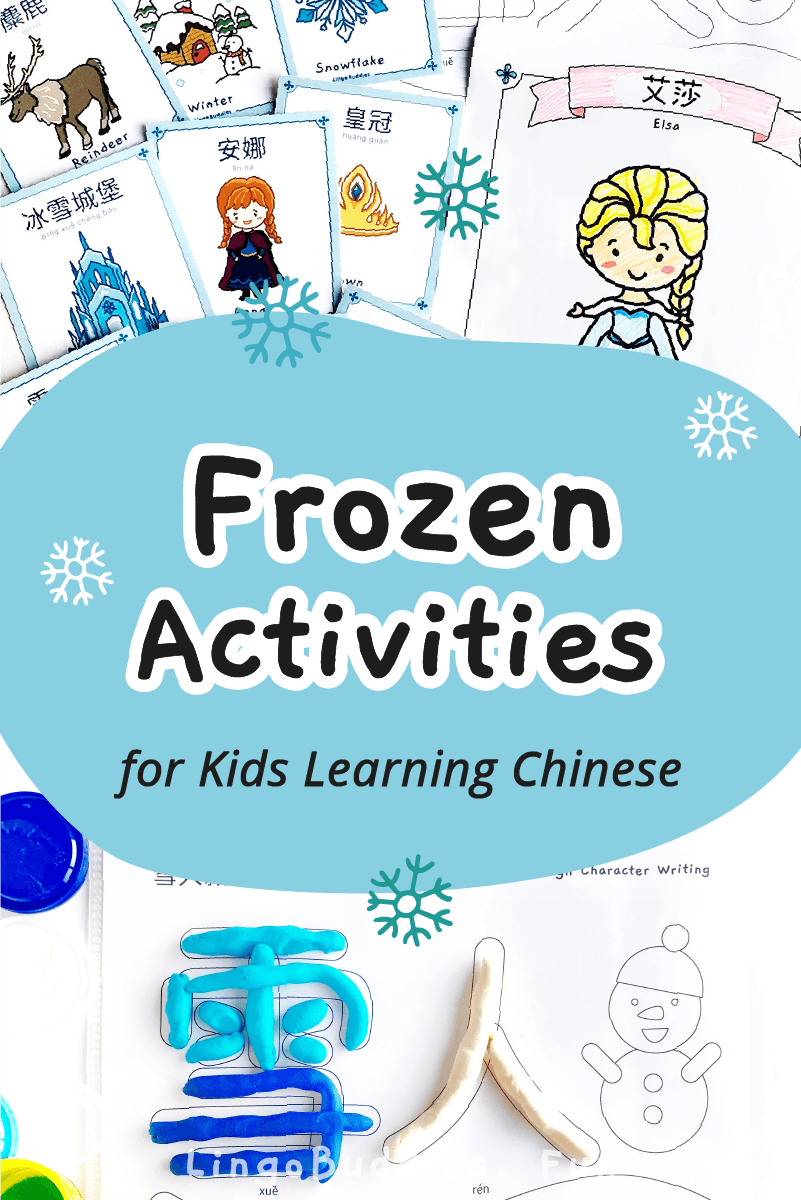 I am sure you have heard of "Let it go" from Frozen a million times if you have kids or been around kids. And not to mention having to watch it again and again because somehow your kids never tire of the first Frozen or the second Frozen movie.
Maybe it's time to switch it up a little? Use their obsession with Frozen to your advantage? If your kids are die hard Frozen fans, you will find it very easy to slip in some Frozen themed activities that help them learn Chinese! Maybe this sounds sneaky but as a parent or teacher, you know that dealing with persistent kids require some special tactics 😉.
My nephew for one is a true Frozen fan. He loves singing all the songs especially The Frozen Heart (Ice Worker's Song). He would use a little stick prop as his ice saw when he sing along. Anyways, since he's such a huge fan, I couldn't help but come up with a few Chinese learning activities to entice him.
Why Frozen-themed Activities in Chinese?
It's all about making things relevant for your kids when it comes to learning Chinese or any subject. If your kids already love the movie Frozen, give them Frozen [冰雪奇緣] activities in Chinese. They will be eager to participate because they already love anything Frozen. It will be as easy as pie to introduce your kids vocabularies and Chinese characters from the movie. And next time you watch the movie together, ask them to find those words they learned for a little repetition practice. The same technique can be applied to other areas of interests. If your kids like dinosaurs, look for Chinese learning activities and games on dinosaurs.
Other Frozen Immersion Resources:
Frozen Crafts: Olaf Sock Snowman
If your kids enjoy crafting, this snowman project will knock their socks off! Its literally made with a sock! This easy project is also perfect for kids parties or holiday crafting. The steps are simple and the final result is guaranteed to impress any little Frozen fans. Here are what you need, feel free to swap things out if you have something else around the house.

Olaf Sock Snowman Supplies:
* 1 white sock (Bobby sock)
* Approximately 1 1/2 cups of rice or beans
* 2 white pompoms (1 inch) for feet
* 3 black pompoms (1/2 inch) or black felt for snowman buttons
* 1 black pipe cleaner for hair
* 1 orange pipe cleaner or orange felt for nose
* Black felt for eyes, eyebrows, mouth and arms
* 3 elastics bands
* hot glue gun or fabric glue
* Optional: Velcro tape
Olaf Sock Snowman Instructions:
1. Fill the sock with 2/3 cup of rice to make the bottom of the snowman. Make sure the rice is at the bottom of the sock.
2. Use an elastic band to tie up the sock and seal the rice.
3. Repeat step one with 1/4 cup of rice for the middle section and then again with 1/2 cup of rice for the head. Try to shape the head taller before sealing it.
4. Use hot glue gun to seal the gap between the bottom and middle section and middle section and the head.
5. Cut out eyes, eye brows and mouth using the black felt fabric. Glue to face with hot glue.
6. Cut out arms using the black felt fabric. Glue to the sides of the middle section.
7. Cut out a short piece of orange pipe cleaner and bend into a filled triangle as the nose. You can also make it with a small piece of triangular orange felt. Glue the nose to face with hot glue.
8. Glue 2-3 black pompoms as buttons with hot glue.
9. Glue 2 white pompoms as feet with hot glue.
10. Tie the top elastic band with a short piece of black pipe cleaner and curl the ends.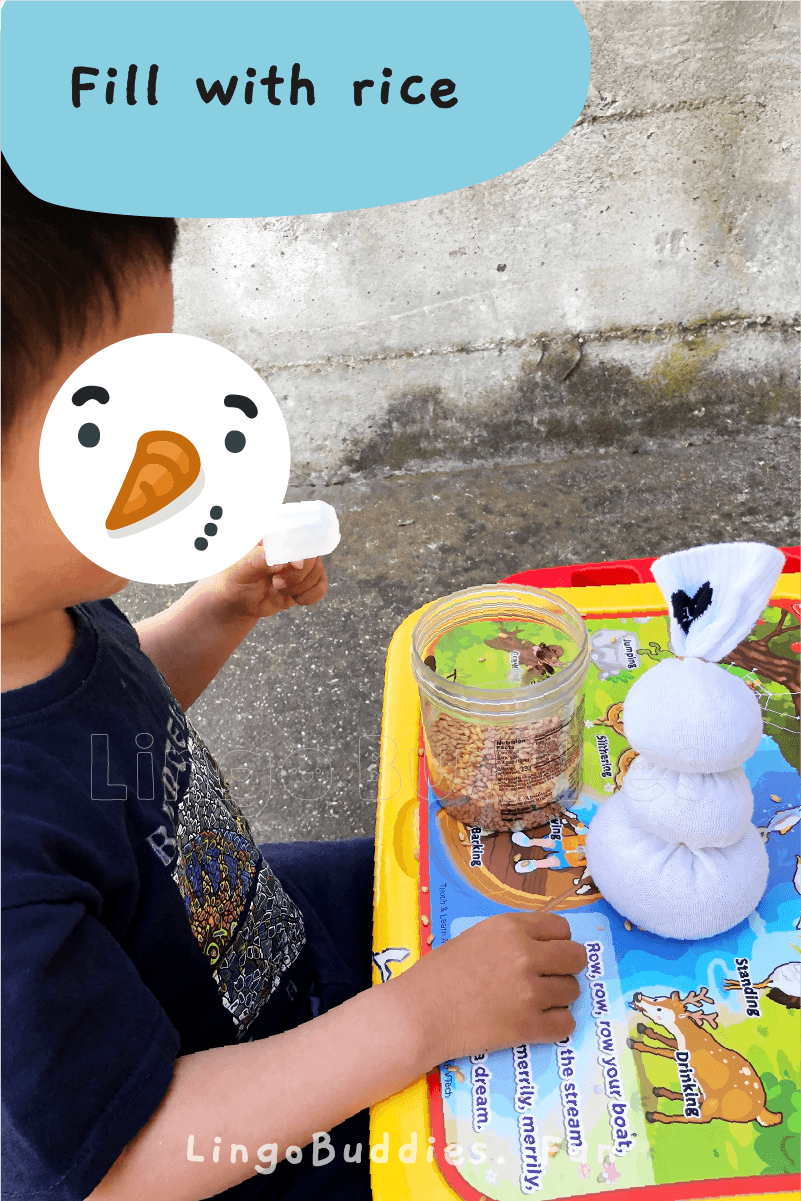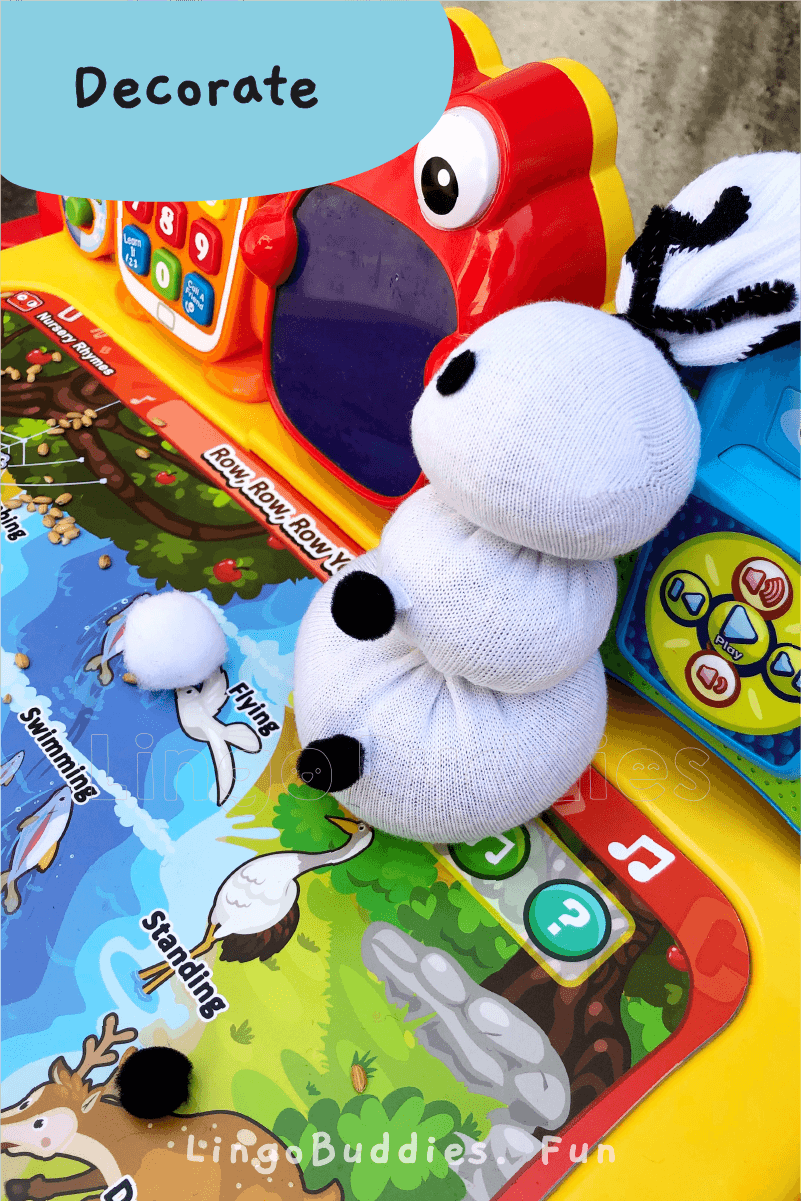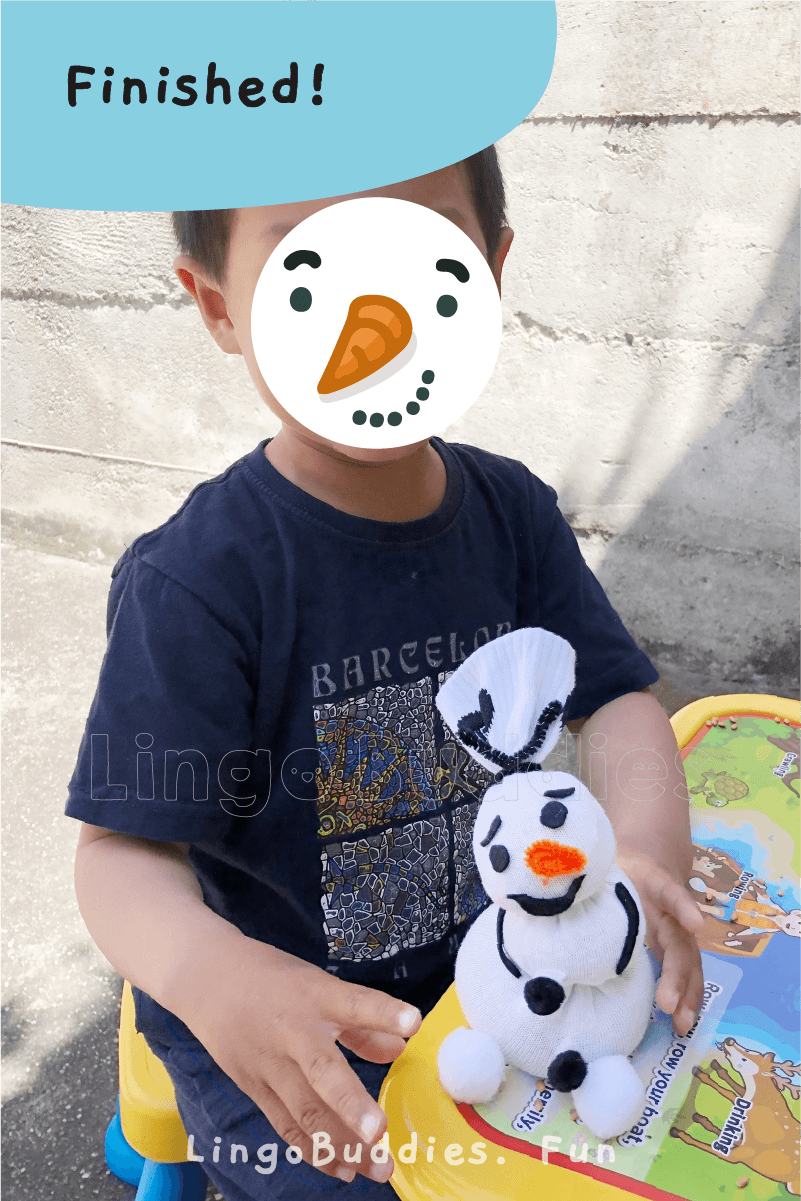 Frozen Vocabularies in Chinese:
Traditional | Simplified Pinyin | English
艾莎 | ài shā Elsa
安娜 | ān nà Anna
雪人 | xuě rén Snowman
麋鹿 | mí lù Reindeer
雪花 | xuě huā Snowflakes
雪橇 | xuě qiāo Sleigh
冰 | bīng Ice
冬天 | dōng tiān Winter
女王 | nǚ wáng Queen
手套 | shǒu tào Gloves
皇冠 | huáng guàn Crown
冰雪城堡 | bīng xuě chéng bǎo Ice castle
And here are the matching Frozen flashcards for visual cues or matching games.

Frozen-themed Printable Activities in Chinese:
We made a blizzard collection of Frozen-themed printable activities for kids.  You can find them here.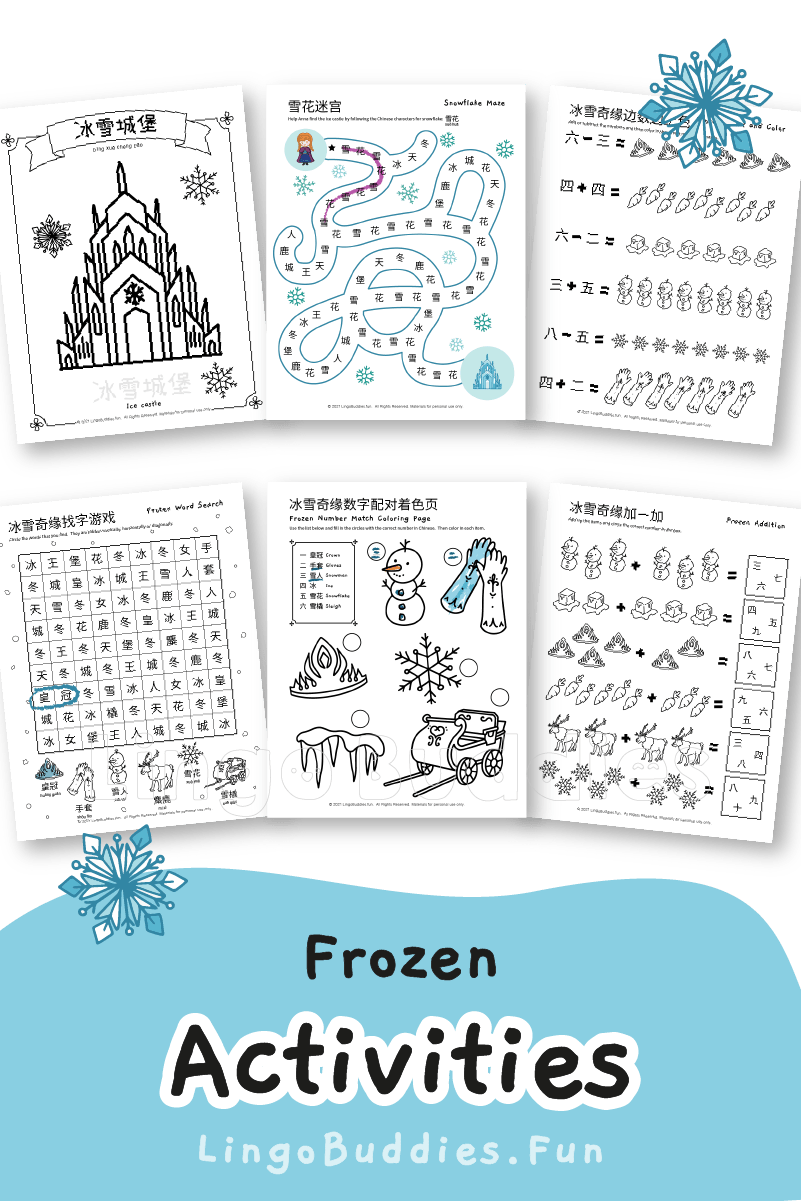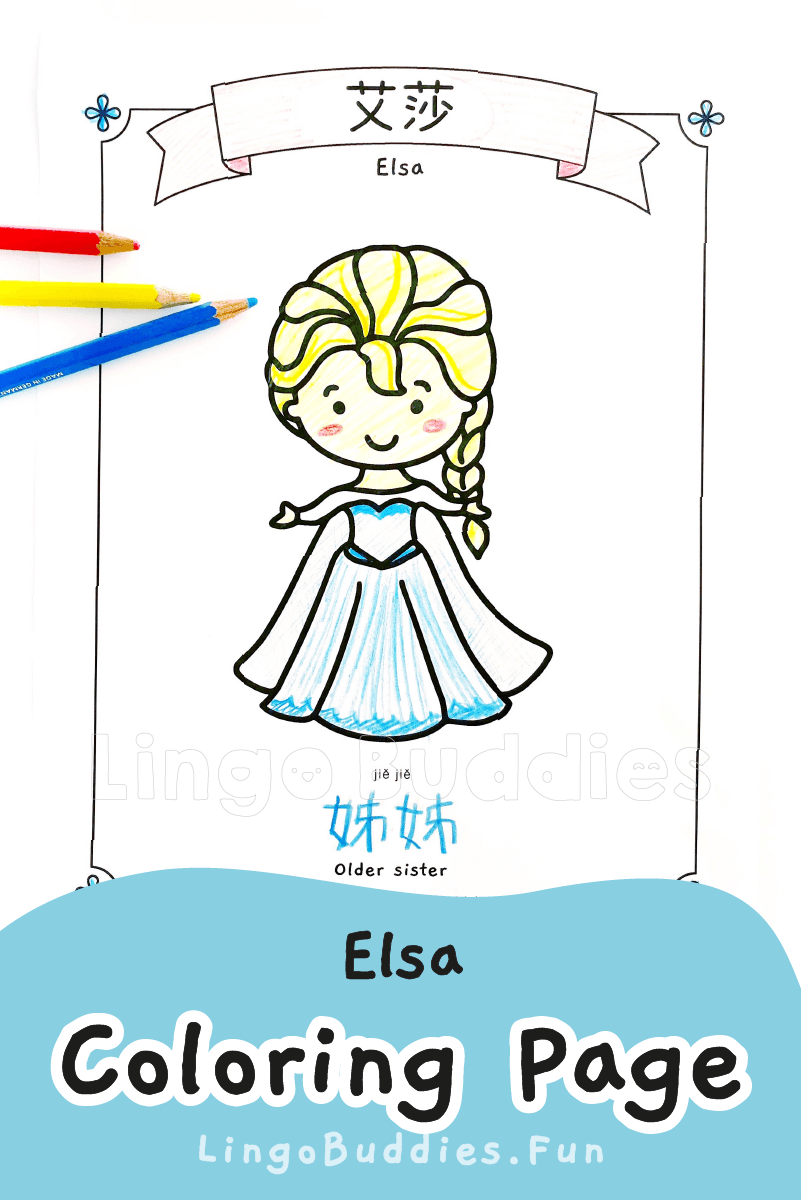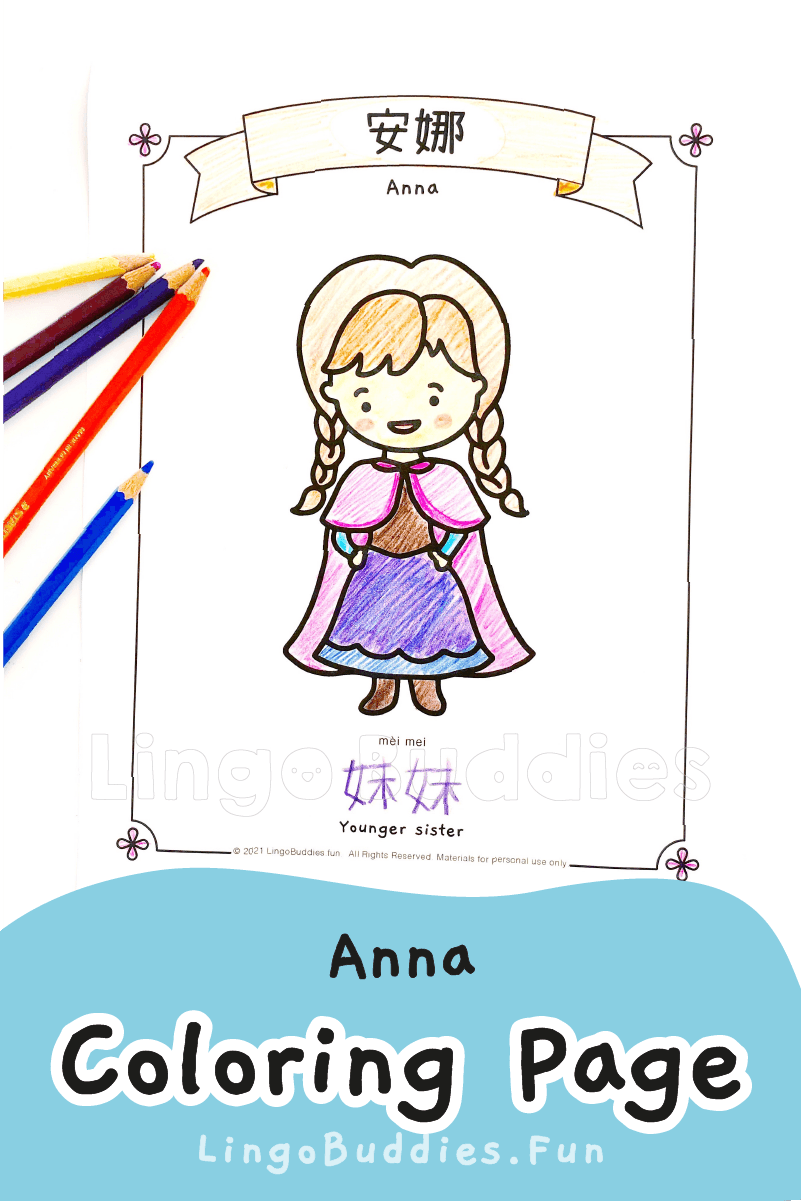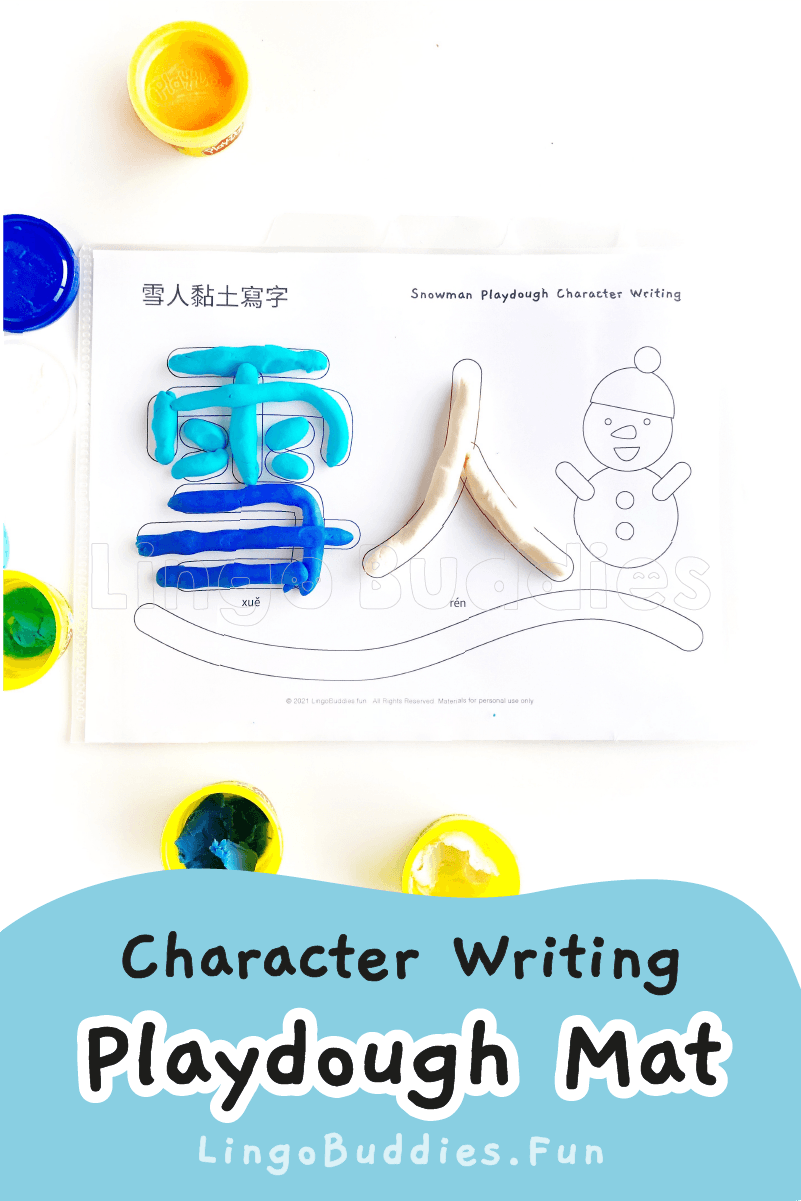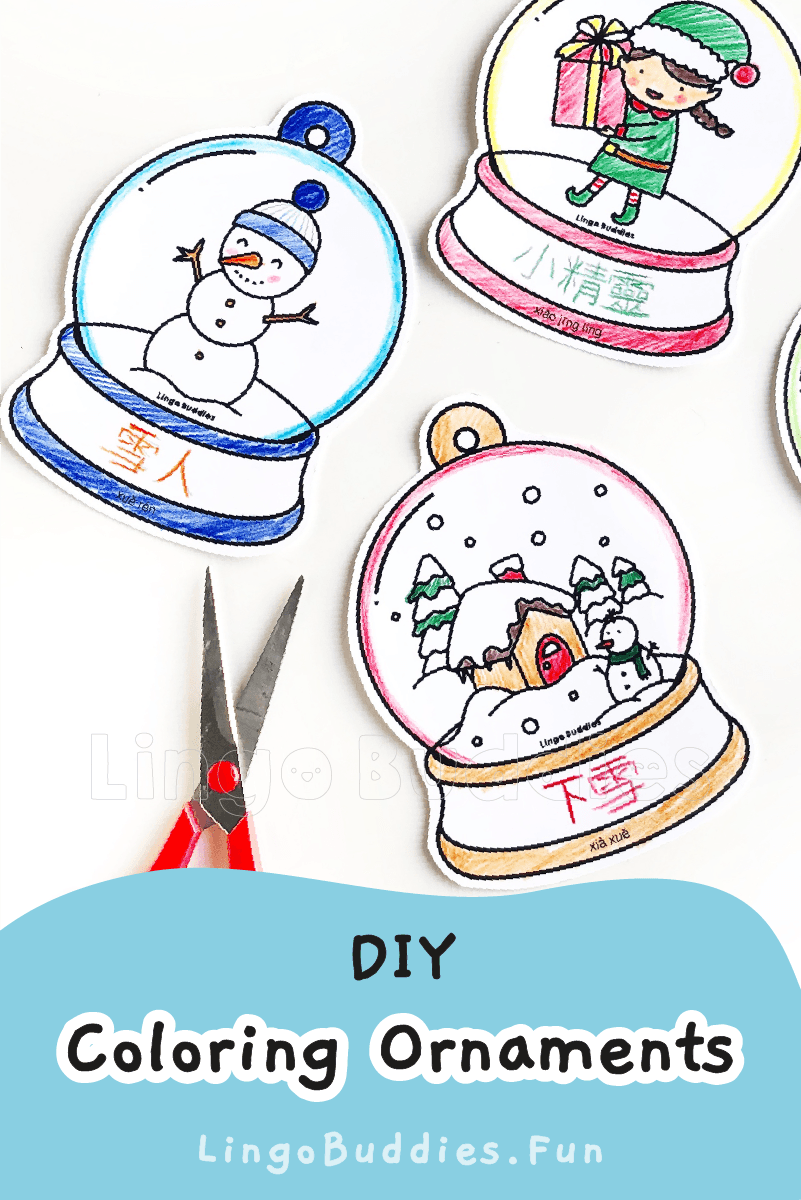 Whether your little Frozen fans are in preschool, kindergarten, or elementary school, I hope they will find something they enjoy from our Frozen-themed collection!  You can also pair these Frozen activities with our Holiday activities.  Enjoy!
Share your Frozen activities with our community of parents and teachers!  Send your photos to careteam@lingobuddies.fun or add #lingobbudies to your social media posts!
Join Us for Unlimited Access