Where is Lingobuddies.fun located?
We are based out of San Francisco, California, US.
How can I share pictures of my Lingo Buddies' activities with you?
We love seeing your pictures!  You can use our hashtag #lingobuddies
You can also email us any pictures to careteam@lingobuddies.fun with your social media handle so we can credit you if we repost!
What age range is the resource library for?
Our contents are ideal for kids 3 to 8 years old.  But we have many parents and teachers with kids below and above that age group who have really enjoyed the materials.
Are the activities and games easy to start?
Our activities and games are super easy to start!  After you have printed them out, your kids can start playing right away. There are some activities that will require a pair of scissors, pens and coloring pencils.  Feel free to message us here if you'd like step-by-step instructions.
Do I need to speak Mandarin to use the resource library for my kids?
Not at all!  Play and Learn Mandarin Chinese is our motto.  If your kids love to play, then they will learn Mandarin Chinese with our creative materials!  Plus, all of our contents are bilingual, so you can even learn Mandarin Chinese together with your little ones.
We encourage you to take part in playing alongside your kid so you can both help each other out.
What's included in the Premium subscription?
LingoBuddies.fun's Premium subscription gives you unlimited access to our Resource Library.  From hands-on activities to environment builders, every content is created to inspire creativity and spark curiosity in learning Mandarin Chinese.  We are here to help you create a playful and immersive environment at home so your kids will develop a love for learning Mandarin Chinese.  All of our materials as of 2021 include both simplified and traditional Chinese versions!
We also add new content every month so your kids will never run out of things to play and learn!  See Subscription Plans for more details.
What payment methods do you accept?
We accept all major credit cards including Visa, MasterCard, Discover and American Express.
After subscribing, how do I access the Resource Library?
Simply log-in on LingoBuddies.fun to access the resource library.  Make sure you have confirmed your email address in order for us to activate your account.  And don't forget to log-in regularly to see the new contents we add every month!
How does the free trial work?
Our free trial offers you the chance to experience the full benefits of our premium membership for 14 days, at absolutely no cost. During the trial, you'll have unlimited access to our extensive resource library, including interactive lessons, engaging activities, and more. This gives you the opportunity to explore and discover the value our platform brings to your learning journey.
At the end of the trial period, your membership will automatically transition into our premium monthly membership plan. However, you have the flexibility to cancel your subscription at any time before it converts to the premium membership.
We believe in providing you with a risk-free and immersive way to experience the quality and variety of our offerings. Start your free trial today and unlock a world of learning possibilities!
Can I share my resources with my co-workers?
When you purchase a Lingo Buddies Premium Membership, you are purchasing a single license, meaning it is for use for one person.  Group membership is available, so please contact us to set one up for you.  We would very much appreciate it that you can follow these terms of use.
Can I use resource for distance or e-learning purposes?
You can use LingoBuddies.fun's resources for e-learning as long as you are sharing the files with parents/caregivers in a secured manner (requires an account and login information) where only your students can access the resource.  Posting Lingo Buddies resources to public accessed websites is not allowed.  You are more than welcome to post links to LingoBuddies.fun's webpages.  Please do not share your Premium Membership log-in access with any other individuals, parents, or caregivers.
How do I renew or change my subscription?
Your Premium subscription is renewed automatically monthly or annually depending on your plan.  You can upgrade or cancel your subscription plan anytime by following the steps below:
Log into your account
Select "My Account" button on the top menu
Scroll down to "Plan Details" and under "Actions" click on "Update or change your membership".
Select Membership option.

How do I cancel my subscription?
We want you to be happy with your subscription.  You can cancel your account anytime by logging in and click on "My Account" on the top menu.  Under "Plan Details", select "cancel membership" and follow the steps to confirm your cancellation. Your cancellation will be effective at your next subscription renewal date.
Can I order the subscription as a gift?
We would love for you to gift a Chinese learning subscription to someone special!  Simply register for a subscription plan and send us an email so we can set it up for you and the recipient.  
I am logged in but cannot download?
You can only download files on your desktop, but if you are using your mobile phone, you can always bookmark the activities you like and download them later on your desktop.
Make sure you are logged in.

 

To know if you have successfully logged in you will see "Log Out" button in the top menu bar.

 

Premium members have unlimited download access while basic members have access to the free resource page.  To check your membership status, click on "My Account" in the menu bar and scroll down to "Plan Details" which will indicate if you are a premium or basic member.
If you still can't download after you have logged in on your desktop, please contact us at careteam@lingobuddies.fun
How do I open my downloaded file?
Once you have clicked the button "Download Worksheet" and saved it to your desktop, you will need to unzip the file.
To unzip, right-click to select "Extract-All", and then follow the instructions.
How can I tell which file is simplified Chinese or traditional Chinese?
Once you have unzipped the downloaded file, you can tell the Chinese versions by the file names.  The simplified Chinese file has "Simp" in the file name.
How do I print my download?
You can print our files right at home on a color inkjet or laserjet printer.  For best results, check that your ink cartridges are not running low. Alternatively, you can print the files at a local printer or online printer such as Staples, FedEx or Kinko's. 
For flashcards and labels, we recommend printing on heavy card stock and laminating them.
For the activity worksheets we recommend printing on standard paper and keeping them in a binder.
Printer Setup Recommendation: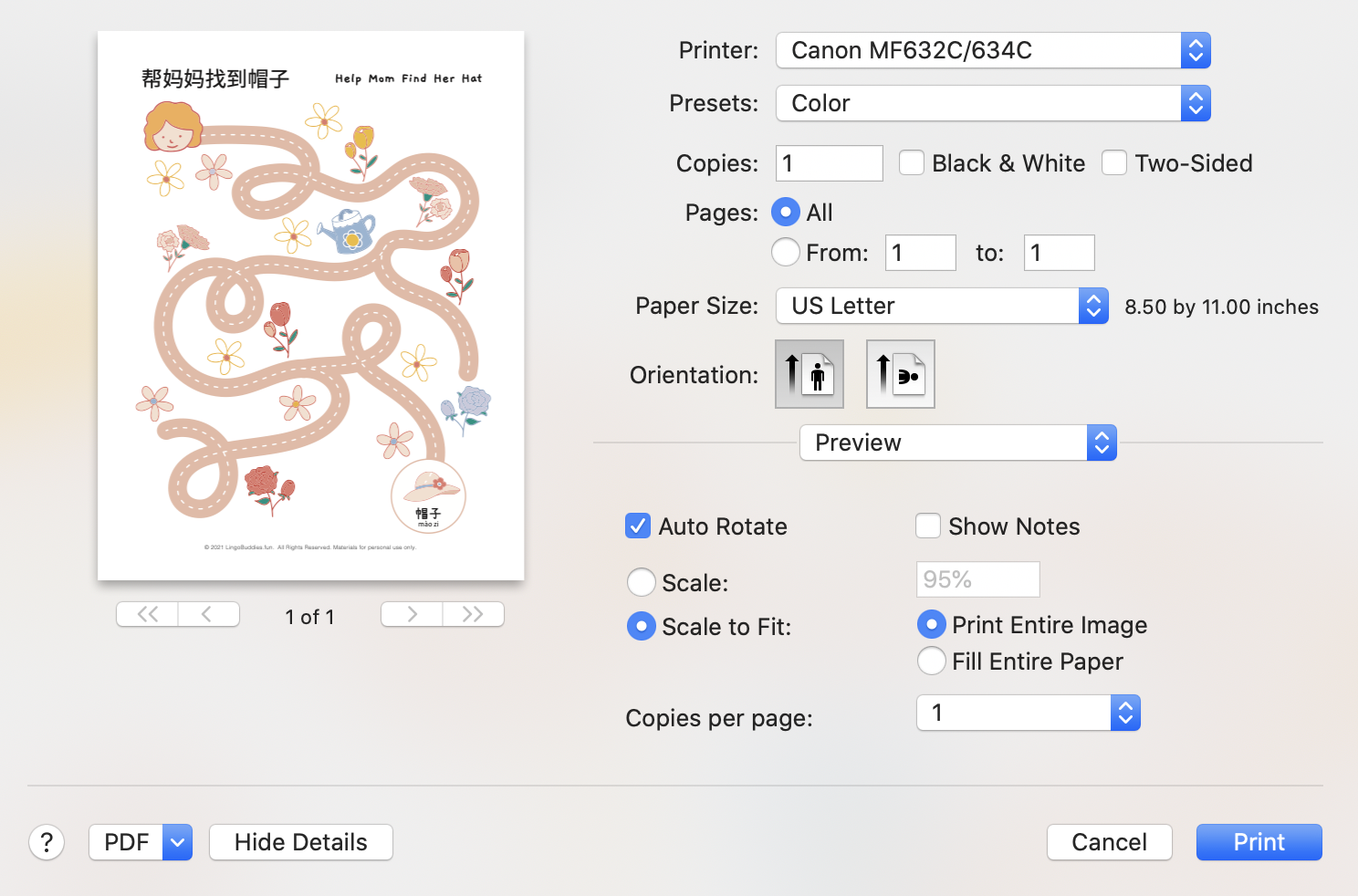 How to print front and back?
LingoBuddies.fun has printable that you can print front and back such as picture flashcards with pictures on the front and texts on the back.  If in portrait format, make sure to flip on the long edge.  For landscape, it must flip on the short side when printing.
How to Set Orientation: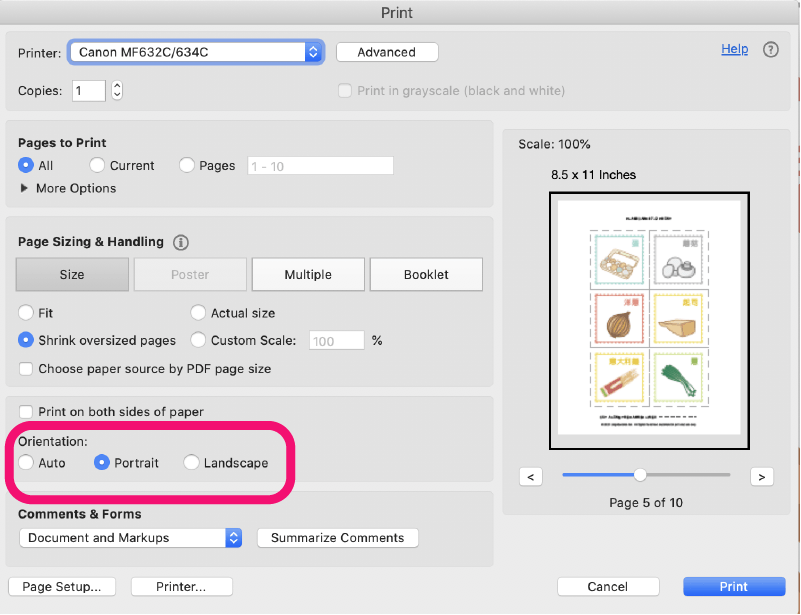 PDF displays correctly in Adobe Reader, but doesn't print properly?
If graphics or text are missing when printed to a printer, it's most often an issue with Adobe Reader or the printer driver.  To resolve the problem, make sure you have the latest version of Adobe Reader and printer driver software installed
If updating the Adobe Reader or the printer driver software doesn't fix the problem, you can change the setting by clicking on the "Advanced" button in your Print Setup.  Then enable the option labeled "Print as image".
How to set "Print as image":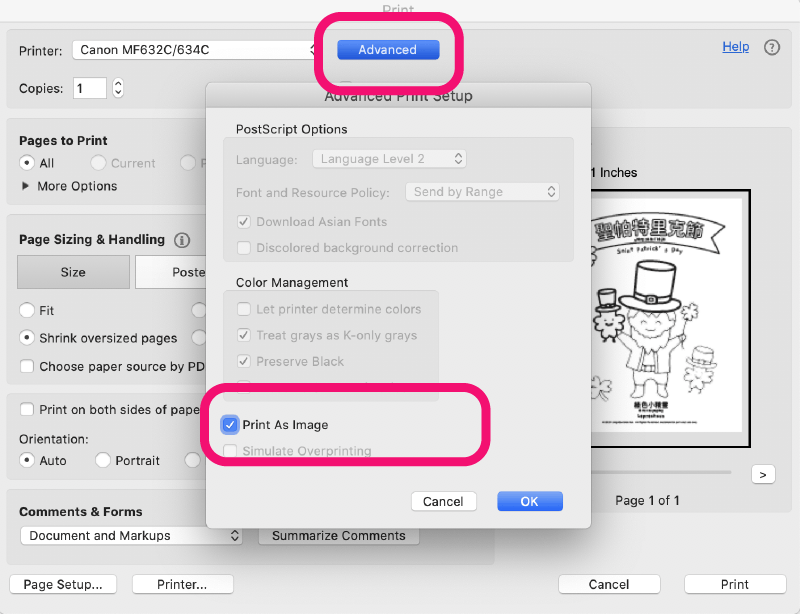 Will I get an order confirmation?
You'll receive a confirmation email after you have placed your order with a valid email address, usually within 24 hours.  If you do not see a confirmation email, please check your spam mailbox and move the email to your inbox so you can receive future emails.
Can I cancel an order?
Our order-fulfillment and shipping systems are designed to get orders completed as fast as possible, therefore we are unable to cancel, edit, or add products to your order after you complete it. You can read our cancellation and return policy here.
What's the shipping time?
Every item is made to order at LingoBuddies.fun.  We aim to fulfill your order within 2 to 7 business days.
Shipping Time:
U.S. 5-7 days
Canada 6-12 days
International 5-20 days
Orders are considered delivered when the shipping carrier provides confirmation that the package was successfully delivered to the address provided.  If the carriers are unable to deliver the package after numerous failed delivery attempts, the cost of re-shipping will be at the expense of the customer.  LingoBuddies.fun is not responsible for non-receipt of orders due to improperly submitted, inaccurate and/or incomplete shipping addresses.
My package looks like it is lost in the mail, what can I do?
If your order is lost in transit as stated by the tracking information from the shipping carrier, we are happy to resend you a replacement.  Please email careteam@lingobuddies.fun with your order number.  Your claim must be submitted no more than 2 weeks after the estimated delivery date,
Since LingoBuddies.fun is not responsible for non-receipt of orders due to improperly submitted, inaccurate and/or incomplete shipping addresses, the cost of re-shipping will be at the expense of the customer. 
What is the free shipping method?
All orders qualifying for free shipping are sent by standard, non-tracked package.
Free shipping is not working?
Your order must be $100.00 USD after any discount and before taxes have been applied.  The free shipping is valid only for orders shipped to an address in the U.S.
If your free shipping option is still not showing, please place your order then contact us with your order number and we will provide a refund for qualifying orders.
Do you ship internationally?
Yes, we do!  International customers are responsible for all import duties levied by customs.  Orders may be held at the border, which can increase estimated delivery times.
How do I get a refund?
To be eligible for a refund, you must email within 7 days of receiving the order to careteam@lingobuddies.fun to alert us of the damage along with a photo of the damaged good.  If you are approved for a refund, your refund will be processed and a credit will automatically be applied to your credit card or original method of payment within 2-5 business days.  See our cancellation and return policy.
My items arrived damaged.
We are really sorry to hear this!  Please email us within 7 days of receiving the order to careteam@lingobuddies.fun to alert us of the damage along with a photo of the damaged item.  We'll gladly send a replacement at no cost to you.
Do you offer wholesale?
Yes we do!  Please email us your website, location, business number, and the store name to apply for a wholesale account wholesale@lingobuddies.fun
Do you work with bloggers and influencers?