15 Easy Chinese New Year Crafts and Activities For Kids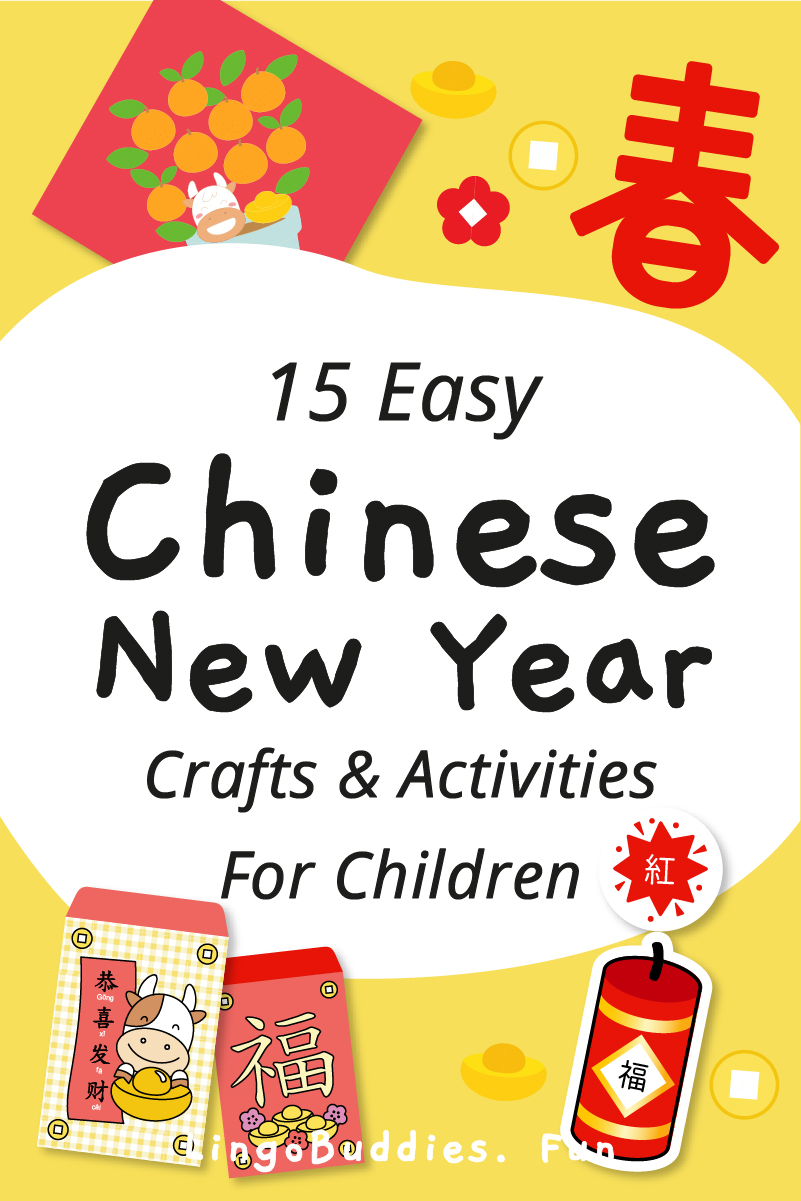 Chinese New Year is a super fun holiday for kids of all ages.  It's the ideal occasion to immerse your kids in Chinese culture and language.  For example, many auspicious Chinese symbols such as the mandarin oranges, the fish, and the dumplings (dumpling shape game) come from witty wordplays of Chinese characters and sounds that are full of imagination and creativity, perfect for kids learning Mandarin Chinese.  In our collection of Chinese New Year activities, we've combined these wordplays and symbols as well as integrated Chinese customs and traditions to make them fun and interesting for your kids.  Each set of activities has been carefully designed to give your kids an authentic Chinese culture immersion.
Before we jump to the activities, I thought it would be useful to share with you my personal experience celebrating the Chinese New Year and other fun facts that you can share with your little ones.
When is Chinese New Year?
Chinese New Year is based on the lunar calendar, which aligns with the monthly cycles of the moon phases.  It happens on the first of January on the lunar calendar.  However, on the western calendar, it is different every year, between January to March.  This year, the Chinese New Year is on February 1st, 2022 and it's the Year of the Tiger!
Where is Chinese New Year Celebrated?
Chinese New Year is celebrated in China, Taiwan, Singapore, and other East Asian countries as well as many Chinese communities throughout the world.  Metropolitan cities with Chinatown district is where you can truly experience the festivity of Chinese New Year outside of Asia.  In San Francisco's Chinatown, you will see red lanterns hanging above the streets, shops decorated with red and gold spring festival couplets, and live performances of the lion and dragon dances.
When does the Chinese New Year Celebration Begin?
Chinese New Year celebration begins very early since it is the biggest Chinese holiday.  Typically you will see decorations and props being put up a month before the actual holiday.  As part of the preparation, families would declutter and clean their homes.  The depth of cleaning is the same as a western spring cleaning.  I remember as a child, I was tasked with cleaning all the dust off the wood-carved chairs in the living room.  It was no small task as I had to use the pencil to push the rag through tiny holes and hard to reach corners to make sure everything was sparkly clean.  The cleaning often takes a couple of weeks and it would involve the entire family since the whole house has to be scrubbed down.  The reason behind cleaning before the Chinese New Year is simply to have a fresh new beginning.  After the cleaning is complete, then the more fun part begins!
After the big cleanup comes all the fun customs and traditions that happen before the Chinese New Year.
Entryways are decorated with Spring Festival Couplet [春聯 | 春联 | chūn lián] on either side of the door and sometimes one above
Home interior is sprinkled with gold and red Chinese New Year decorations and symbols of good luck
Pantry is re-stocked with dried goods for the many days of feasting after the Chinese New Year
Closet is updated with new clothes specifically for wearing during the Chinese New Year to signify a new start
Trays of mandarin oranges with leaves are displayed on the table.

 

The pronunciation and character for mandarin oranges [橘子 | 桔子 | jú zi] is close to 吉 [ji], which means good fortune.  Make your own lucky mandarin orange pot with paper!
Boxes of candies and dried fruits and nuts fill the table.

 

Some of the classic sweets are candied lotus root slices, melon seeds, candied lotus seeds, candied winter melon, and wrapped hard candies.

 

Having sweets in the house symbolizes a sweet life in the coming new year.
Red envelopes [

紅包

|

红包

] are filled with money to be given to children of close friends and relatives.

 

In a work setting, you typically receive a bonus in the red envelope from your employer during this time of the year.

 

For children, this is when you want to have as many uncles and aunts as possible!

 

I have 5 uncles and 1 aunt on my dad's side and 1 uncle and 3 aunts on my mom's side, so you can imagine how excited I was for Chinese New Year!

 

If you plan to give some red envelopes to your kids' friends, you can get creative by filling them with treats and little toys.  DIY red envelope templates
Chinese New Year's Eve [除夕 | 除夕 | chú xì] is a day of feasting.  Unlike a typical reunion dinner, the dinner menu for Chinese New Year's Eve is probably the most extravagant of all feasts.  The dishes are chosen for their symbolic meaning and there will be more than enough food to feed a whole village!  It's important to have leftovers because it means abundance for the year to come.  Here are some common dishes for this reunion dinner [團圓飯 | 团圆饭 | tuán yuán fàn or 年夜飯 | 年夜饭 | nián yè fàn]:
Whole steamed fish: symbolizes surplus and wealth.

 

The pronunciation of fish 魚 [yú] is the same as 餘, which means surplus and plenty.
Whole steamed chicken: symbolizes reunion and family.

 

The whole chicken must be served with the head and claws.
Dumplings: symbolizes the exchange between old and new.

 

It's also similar to the shape of a gold ingot, therefore dumplings also represent prosperity and wealth.
Long noodles: symbolizes longevity
Nian Gao rice cake: symbolizes success and higher year.

 

The pronunciation of 糕 [gāo] is the same as 高, which means high or tall.
Depending on the size of your family, the reunion dinner can be one table or five tables like mine! The kids would sit at a separate table than the parents but the dishes are similar if not the same. Everyone would be dressed in new clothes to welcome the new year.  Here's a fun reunion dinner coloring puzzle activity to try!
What is the Lantern Festival?
The Lantern Festival [元宵節 | 元宵节 | yuán xiāo jié] is on the 15th day of the Chinese New Year.  It marks the finale of the Chinese New Year celebration!  It's the first full moon of the year.  People gather outside in the evening to view the full moon with their festive lanterns.  In Ping Xi [平溪 | píng xī], Taiwan, you will find a spectacular night sky filled with hundreds of paper lanterns drifting above.  It's a tradition to write your New Year's wishes on the paper lanterns and then release them into the dark sky.  The higher your lantern floats, the closer you will be to your dreams and wishes.  Other common traditions for the Lantern Festival include eating glutinous rice balls [元宵 | 元宵 | yuán xiāo] filled with sesame, peanut or red bean paste and solving riddles on the lanterns.  Make your own 2D lanterns to celebrate this special festival.
Other Names for Chinese New Year
The other common name for the Chinese New Year is Lunar New Year [農曆新年 | 农历新年 | nóng lì xīn nián] because the date is based on the lunar calendar.  Also, people refer to the Chinese New Year as the Spring Festival [春節 | 春节 | chūn jié].
15 Chinese New Year Crafts and Activities- Part 1
Here are the awesome crafts and activities that we made for kids learning Mandarin Chinese.  We are splitting it into 2 posts since there are so many to show you!  Each activity has 2 versions, one in traditional Chinese and one in simplified Chinese.  Once you download them, you can differentiate them by the file name.  The simplified Chinese file has the word "simp" in the file name.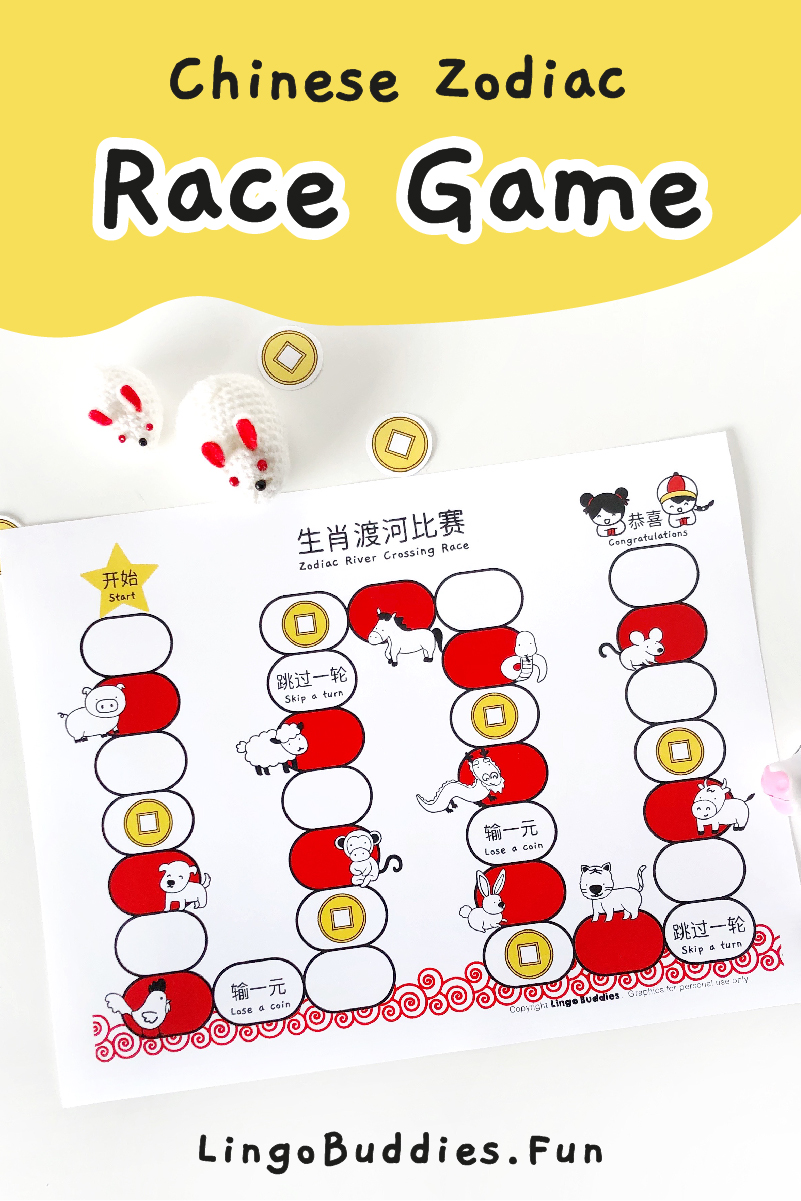 Click here to see part 2 of our 15 Awesome Chinese New Year Crafts and Activities!
Join Us for Unlimited Access